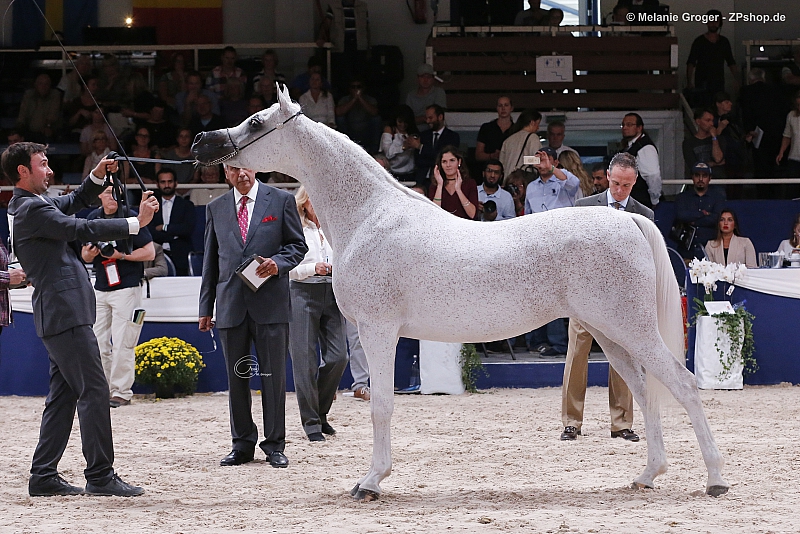 photo: Melanie Groger - ZPShop.de
Tehama Ballalina
Tehama Ballalina is a daughter by Tehama Na Sidaqa. Tehama Na Sidaqa was South African National Champion in 2003. This dark-chestnut stallion is a son by Thee Cyclone. The Straight Egyptian stallion Thee Cyclone was a double The Minstril grandson. Tehama Na Sidaqa's dam was a Niyashin El Shaklan.
On the dam side Tehama Ballalina has Laddinn in her pedigree. Laddinn was bay grand son by Pure Polish stallion Aladdinn, a very famous producer in the United States.
Her dam JJ Shai Majestic Queen traced to the Straight Spanish Tabal daughter Tagata De Washoe who was imported from Spain to the United States in 1965.
The flea-bitten grey Tehama Ballalina was imported from Zimbabwe to UK by Helen Cawley in 2004. Later she was acquired by Al Zobair Stud.
This graceful mare was shown at the All Nations Cup in 2016 where she was awarded Gold Champion Senior Mare. The same year, she was awarded World Silver Champion Senior Mare in Paris. She topped her show career in 2017 when she was announced World Gold Champion Senior Mare. Tehama Ballalina is also proven as a broodmare at Al Zobair Stud where she gave birth to 10 foals - 2 colts and 8 fillies (some by embryo transfer).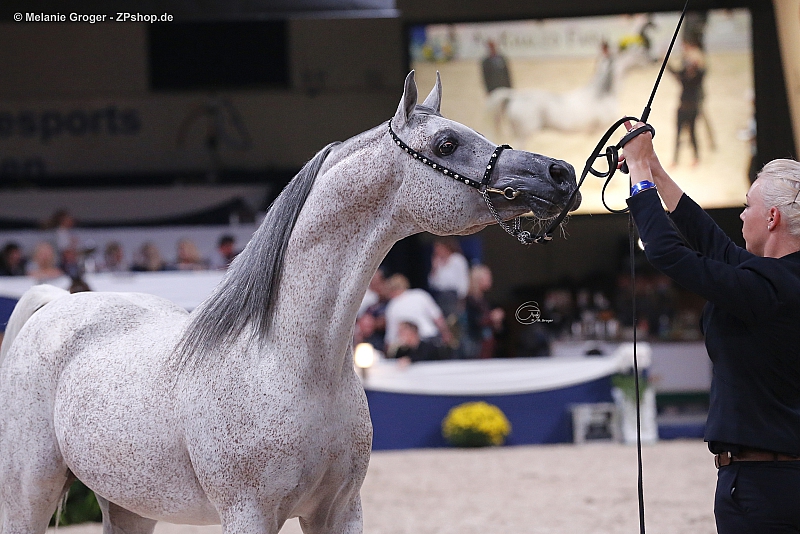 photo: Melanie Groger - ZPShop.de
Redwood Lodge Essine
The stallion Redwood Lodge Essine is a son by GG Magnetism. GG Magnetism was sired by Pure Spanish stallion AN Malik who was imported by Jay Stream from Spain to the U.S. in 1972. GG Magnetism was acquired by Trevor and Sue Patrick of Redwood Lodge Arabians, Australia who are the breeders of Redwood Lodge Essine.
The dam of Redwood Lodge Essine was Om El Amira Estopa, a mare that mainly had Spanish blood in her pedigree. Her grand dam was the 'Spanish queen' Estopa, foundation mare of Om El Arab. Om El Amira Estopa was sired by Sanadik El Shaklan, a El Shaklan son. Om El Amira Estopa produced World Champion Filly Abha Opalina and RL Masala Estopa, Reserve Junior Champion Filly Championat d'Alsace. Both mares are full-sisters by WH Justice.
Redwood Lodge Essine was shown as a Junior horse. He was awarded Danish National Champion Colt and was Reserve Junior Champion Colt at the All Nations Cup, both in 2001. Turning into a beautiful flea-bitten grey stallion, he was presented at the All Nations Cup in 2016 again where he placed Top Ten in the Senior Championships.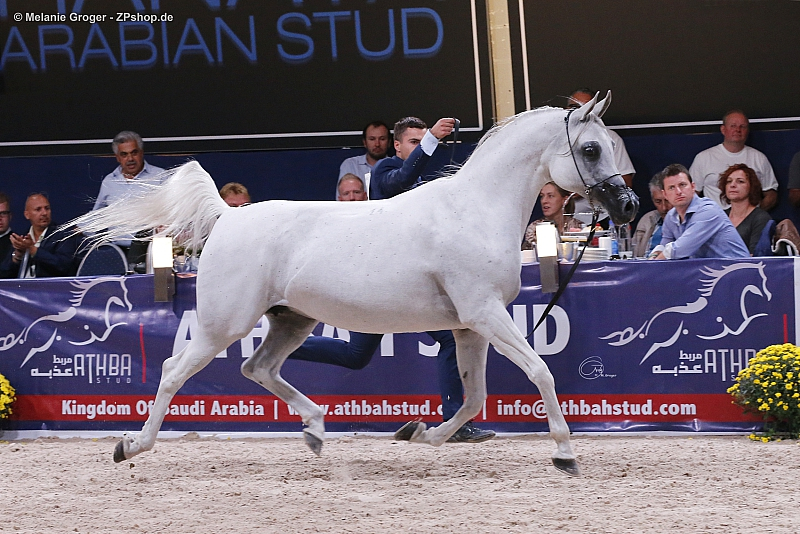 photo: Melanie Groger - ZPShop.de
Palanga 2002
The grey Pure Polish mare Palanga was born in Spring 2002 to dam Panika. Panika was by Eukaliptus who was known for siring excellent broodmares. The Eukaliptus grand-daughter traces to Porfira, a mare bred in Tersk, Russia whose grand dam was Taraszcza. Taraszcza originally came from Janow Podlaski and was captured and brought to Tersk during WW II where she founded her own family. Porfira was acquired by Michalow Stud in 1958 where she foaled Pardwa who is the dam of Pliszka, the grand dam of Panika.
Besides being a broodmare, Panika was also a reasonable halter show mare. She was awarded Polish National and All Nations Cup Senior Reserve Champion Mare and she was World Senior Top Ten Mare in Paris in 2006.
Palanga's sire was the legendary Ekstern who was bred by the Michalow Stud. He is a highly decorated show horse and has won numerous awards in both national and international competitions. World Senior Champion Stallion Ekstern is known for his exceptional conformation, movement, and presence in the show ring, and he is considered to be a valuable breeding stallion for the Polish Arabian breed. Besides Palanga, he sired many outstanding national and international champions including Esparto, Celsjusz, Wilha, Altamira, Wilga, Sefora, Gilly J and many more.
Being a product of these two show horses, Palanga has also had success in the halter show ring. She was European Champion Filly in 2003, European Reserve Champion Mare 2006 and Polish Gold Champion Mare in 2021.
As a broodmare she has produced 17 registered foals (some of them by embryo transfer), among them is US and Canadian National Top Ten Stallion Pavorotto KA and Belgium National Gold Senior Champion Stallion Profender KA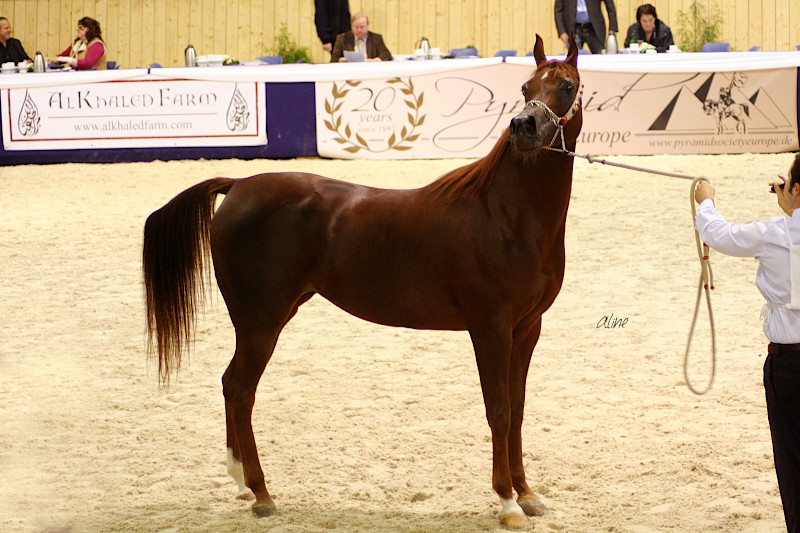 Coco Shanel IA
The chestnut mare Coco Shanel IA was sired by Padrons Psyche. Padrons Psyche was by Russian/Crabbet bred stallion Padron out of Kilika, a Straight Russian daughter by Tamerlan. Padrons Psyche was very well-known for siring excellent performance and halter show horses, among those are World Senior Champion Mare Psyches Amber Gem, US National Senior Champion Stallion Enzo and -not to forget- Magnum Psyche, his most producing son and also US National Senior Champion Stallion. Exported to Belgium in his later years, Padrons Psyche died there in 2017.
Coco Shanel IA's dam Shahlica was a daughter by Bey Shah. US National Reserve and Scottsdale Reserve Champion Stallion Bey Shah was sired by Bay El Bey. Bey Shah was foaled in 1976 and was known for producing offspring with excellent conformation, movement, and athleticism. Some of his notable offspring include Fame VF, Bint Bey Shah and RSD Dark Victory (great grand sire of Int. Champion RFI Farid). Bey Shah passed away in 1999, but his influence on the Arabian breed has continued through his descendants.
Coco Shanel IA was imported from USA to Italy in 2006. Later she was sold to Al Shaqab stud that showed her in the Middle East. In 2012, she was Silver Senior Champion Mare at the Qatar International Arabian Horse Show. For Al Shaqab stud, she brought 4 fillies and 1 colt.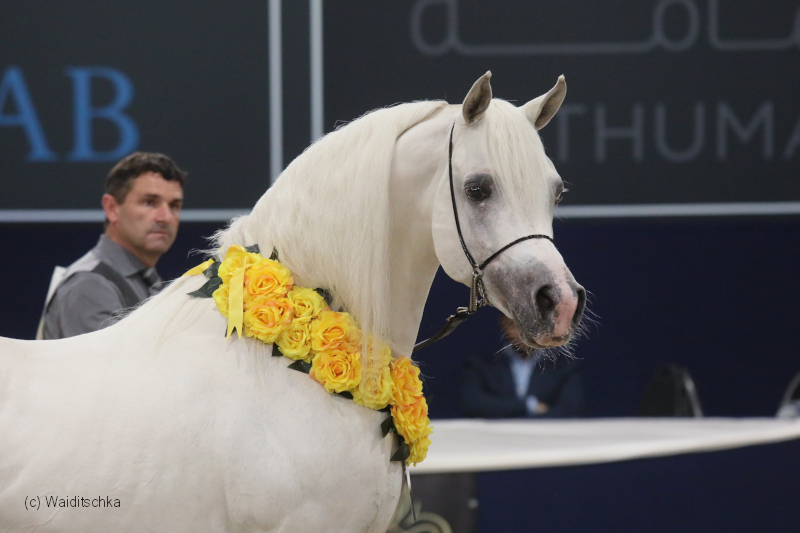 Safeer By Sibilla
Safeer By Sibilla is a Straight Egyptian stallion sired by MG Magic Ghassan. MG Magic Ghassan is a grandson by Ansata Hejazi. His dam is the beautiful mare Classic Lohelia.
Safeer By Sibilla's dam is Magic Sibilla who also has bloodlines of Ansata Arabian Stud in her pedigree. Her sire is the grey stallion Ansata Shaamis, one of the last sons by Ansata Halim Shah. Ansata Shaamis was exported to Italy in 1997 where he sired most of his foals. He was later exported to Brazil in 2010.
Magic Sibilla's dam is Ansata Shakilah, a bay Ansata Sirius daughter and Dalul granddaughter who was imported to Italy in 2003.
The grey Safeer By Sibilla was acquired by Hanaya Stud, Switzerland who showed him successfully in Europe. He was Austrian Gold Senior Champion Stallion in 2018, Prague Intercup Silver Senior Champion Stallion in 2020 and German Gold Senior Champion Stallion in 2022.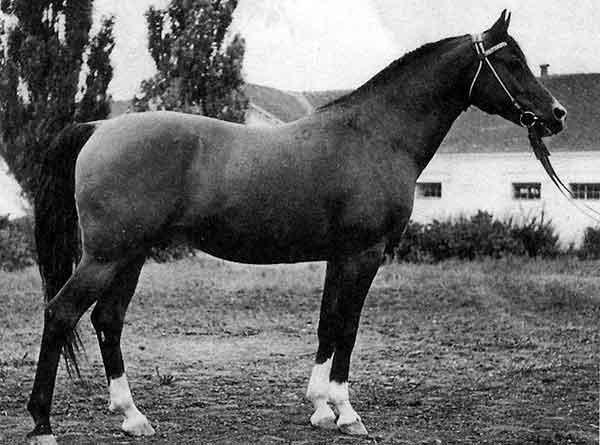 Arax
The bay stallion Arax was born at the Polish Klemensow Stud. He was sired by the important Polish sire Amurath Sahib whose sireline traced to the desert imported stallion Bairactar.
Arax dam was the grey Angara, a daughter by Wielki Szlem. Wielki Szlem was one of only four Ofir sons that bred on.
In 1957, Arax was transferred to Michalow Stud where he sired a few foals, among those was only one daughter that influenced the Polish breeding program. Her name was Zlota Iwa. She founded the 'Z' family of Poland.
Shortly after his breeding season at Michalow, Arax was acquired by the Russian Tersk Stud where Arax started his amazing breeding carrier and was leading Russian sire between 1959 and 1969. At Tersk, he sired many horses that influenced the breeding program world-wide. Among those are horses like Tamerlan, Neva, Plakat, Panama of Tersk, Naivinyi, Napitok, Magnolia or Karta. His most successful offspring however, was the bay stallion Nabeg who sired important stallions like Menes, Neman, Nadejni, Nariadni, Princip, Prononce, Peleng, Tron or Tallin.
Arax died in the Netherlands shortly after his arrival in 1969.