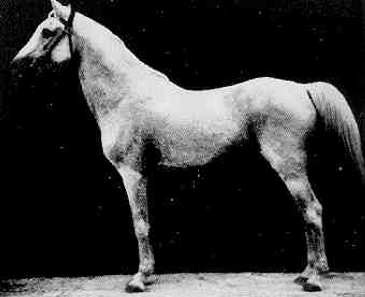 Mabrouk Manial
Mabrouk Manial was a grey stallion by Saklawi II, born in 1912 at the Manial stables of Prince Mohammed Ali in Egypt.
Mabrouk Manial's dam was Tarfa, a grey Koheylah Mimriyeh who traced to Freiha El Hamra, a desert bred mare of bay color. Freiha El Hamra was imported to Egypt by Prince Ahmad Kamal in the late 1880's.
Tarfa also produced Hadban, a half-brother to Mabrouk Manial. Through Tarfa, Mabrouk Manial came from the same strain than Mansour who sired the legendary Nazeer.
Although Mabrouk Manial sired only nine foals, especially his daughters were exceptional breeding individuals.
His daughters included Bint Radia, Sabah, Saada and Mahroussa, one of the most photographed mares of her time.
Bint Radia produced the stallions Hamdan and Shahloul and the mares Zamzam and Samira.
The daughter Sabah was well-known by her daughter Bint Sabah and her daughters Bint Bint Sabah and Bukra who founded their own families in and outside Egypt.
The grey Mahroussa was the most influential of all Mabrouk Manial daughters outside Egypt. She was the dam of Fadl and Zarife and dam of Maaroufa anf HH Mohammed Ali's Hamama.
Fadl and Maaroufa became foundation stock at Babson Farms in the United States while Zarife and HH Mohammed Ali's Hamama became part of the WR Brown breeding program, also in the U.S.
Although his daughters were very profilic, Mabrouk Manial sons should also be named.
With Negma, he produced the stallions Zafifan and Jasir. Latter was foundation stallion at German State Stud of Marbach. Both were full-brothers to previously mentioned Mahroussa.
Mabrouk Manial also sired the stallions Awad and Baiyad.
Awad was the great-grandsire of Moniet El Nefous while Baiyad was an excellent broodmare sire producing Bint Binr Sabah and Samha.
Mabrouk Manial's last foals were born in 1925 when he was 13 years old. In 1927, he was tranferred to R.A.S. Mabrouk Manial died at the age of 21 in 1933.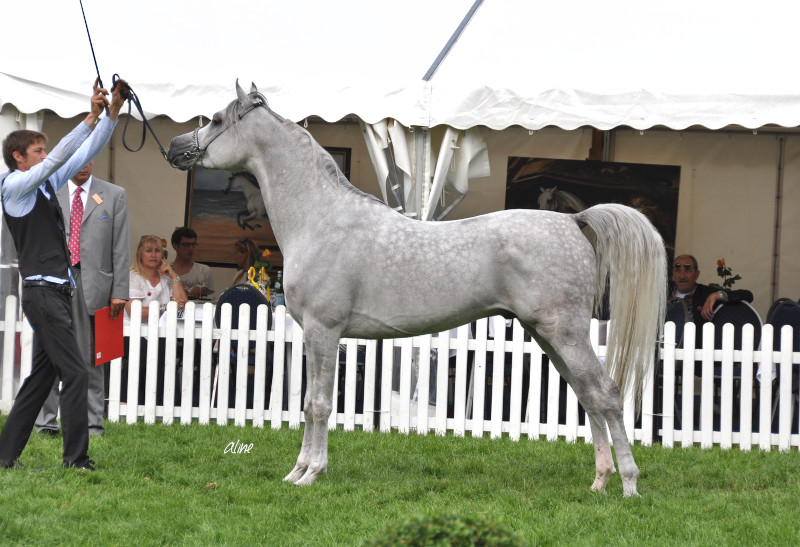 Europe Al Khidar
Europe Al Khidar was born in 2007 at SAX Arabians in Bavaria, Germany.
His sire is Khidar who was sired by Ansata Sinan, a Prince Fa Moniet son. Khidar's dam Elizja has Crabbet and Polish bloodlines in her pedigree which includes two times Ibn Estasha, too.
Khidar was a successful halter show horse in Europe being Belgian National Champion Stallion, European Champion and All Nations Cup Champion as well as World Reserve Champion Stallion.
Europe Al Khidar's dam Essteema was also successful at halter shows. As a two-years ,old she became first European Female Triple Crown winner.
Her sire was World and European Champion Stallion Essteem by Fame VF out of an El Shaklan daughter. Like his daughter, Essteem was Triple Crown winner - the first in Europe!
Essteema's dam Menascha was a Straight Russian daughter by Menes. Bred by Mrs. Garde-Ehlert, she was a foundation mare at SAX Arabians.
Matured into a beautiful dapple-grey stallion, Europe Al Khidar was shown at Marbach and Frankfurt, Germany in 2011 where he became Gold Champion and Silver Champion Stallion respectively.
In 2014, he was presented at the German Nationals where Europe Al Khidar was awarded Bronze Senior Champion Stallion. His full-sister Esskhija was Senior Gold Champion Mare at the same show.
Besides his show career, he was used as sire at his home stud where he sired 21 foals and used by outside breeders.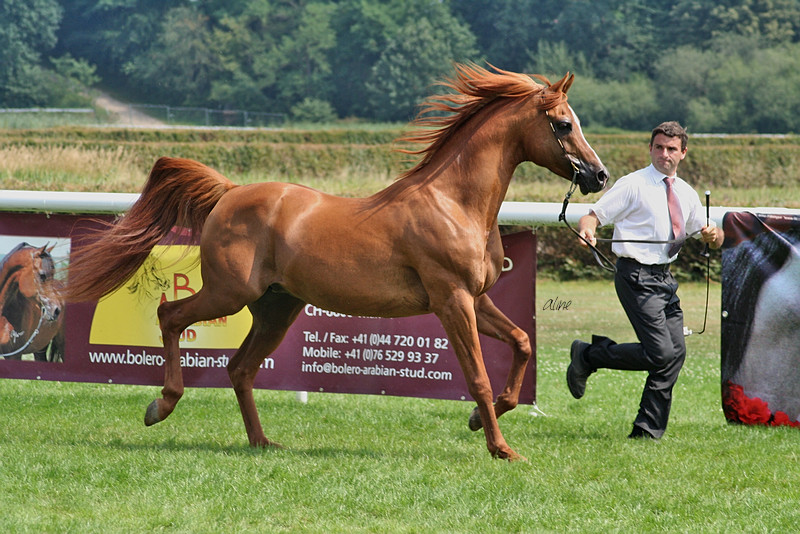 Essteem
Doug Dahmen, Arabian horse breeder and trainer in California, saw Fame Maker R winning the yearling colt class at Scottsdale in 1990. Fame Maker R was out of an El Shaklan daughter.
As Dahmen was very impressed by what he saw, he decided to bred his own El Shaklan daughter Espressa to the sire of Fame Maker R: Fame VF.
Fame VF was a son by Bey Shah, a top US sire of multiple champions in halter and performance. The bay Bey Shah was from the sire-line of desert bred stallion Mirage whose line produced the sires Bay Abi and his son Bay El Bey who are the great grandsire and grandsire of Fame VF respectively.
Fame VF was the most producing son of Bey Shah. He died untimely in 1994 at the age of 12.
In 1991, Espressa, who traced to the desert bred mare Abeyah, gave birth to her Fame VF foal, a chestnut colt by the name of Essteem.
Essteem was imported to Austria by Ferdinand Huemer of La Movida Arabians in 1993, bringing the bloodline of Fame VF to Europe which was rare there.
In 1994, Essteem competed at the three major shows in Europe: European Championships, All Nations Cup and World Championships. And the chestnut colt fullfilled the expectation from Doug Dahmen. Essteem was named Junior Champion Colt at all three shows which made him the first Triple Crown winner in Europe ever!
Outside the show ring, he was used as sire in Austria and Southern Germany for example at Sax Arabians. For Sax Arabians Essteem produced valuable broodmares like Esstascha and Essteema.
His daughter Essteema stepped in her father's hoofprints by being awarded first female Tripple Crown Winner in 1999 at just two years old.
Two of his daughters, Al Estrella and LM Porleen were named Austrian National Champion Mare and Filly respectively.
Essteem most producing son was Esstashan who sired Psadisho Ibn Esstashan, German National Champion Colt 2004. Another son should also be named here: L.M. Fellini who was awarded Gold at the German stallion licensing show.
In 2001, Essteem was leased to England siring the bay stallion ROE Laheeb who was successfully shown at regional shows in the U.K.
Back in Austria, Essteem was shown at the National Championships in 2007 where he was named Austrian National Senior Champion Stallion. He was last shown in public at the evening presentation at the All Nations Cup in September the same year.
After that presentation he was retired at the small stud of Nicole Barth near Karlsruhe, Germany where died in 2015 at the age of 24.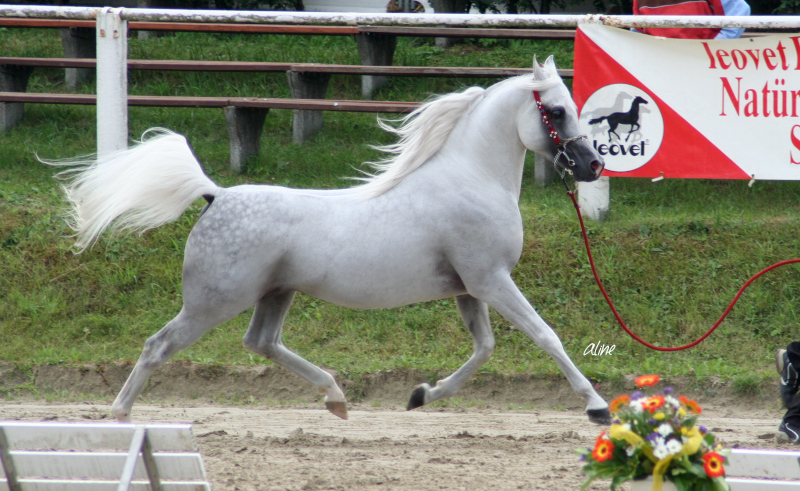 Gatsby CC
On a Sunday afternoon in August 2006, a white stallion entered the show ring at the small state stud of Dillenburg, Germany where the annual Egyptian Event Europe took place. The name of this Straight Egyptian stallion trotting impressively carrying his tail high like a flag in the wind, was Gatsby CC.
Gatsby CC was born in 1999 sired by Shahir. Shahir -registered as Shahir IASB - was a son by Salaa El Dine out of the Ansata Imperial daughter Imperial Im Phayana. Salaa El Dine was chief sire at the Katharienhof Stud of Dr. Nagel in Germany that still operates today. He was a son by Nagel's foundation mare Hanan. Salaa El dine sired successful show and breeding horses worldwide. His son NK Bolbol was even used on the Straight Egyptian mares at the German state stud of Marbach. RN Farida was his most exotic daughter that went on to become Qatar National Senior Champion Mare in 1999.
Gatsby CC's dam was Miss Maggie Mae. Miss Maggie Mae was a grey daughter by The Minstril who -together with his son Thee Desperado- were leading sires of Straight Egyptians in the 1990's. The dam of Miss Maggie Mae was Bint Magidaa, a daughter out of the chestnut mare Magidaa who was born at El Zahraa and imported by the Marshalls in 1968.
Gatsby CC started his show career as a 2 years old being awarded Egyptian Event Junior Champion Colt in 2001. Standing at Cadron Creek Arabians in the United States, Gatsby CC was exported AlBidayer Stud in Qatar in 2006 after Cadron Creek's dispersal. For his new owners, he started at the Egyptian Event in Europe hosted by the state stud of Dillenburg as mentioned at the beginning. At that event he was named Reserve Senior Champion Stallion.
In 2011, he was shown again in the US where he was awarded Silver Senior Champion Stallion at the Egyptian Event.
His final home he found with Paul and Jennifer Ogden of Eagleridge Arabian Farm in Australia where he was exported to in 2013. For Eagleridge, he left four registered foals (three colts and one filly) before he died in 2015 due to colic at the age of 16.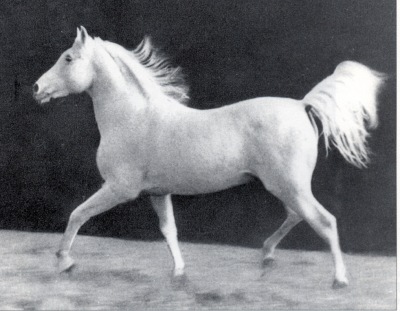 Jasir
When Wilhelm II., former Prince of Wuerttemberg died in 1921, his daughter Princess Pauline zu Wied took over the Weil Stud with its purebred Arabians. The stud was established by the Prince's grandfather Wilhelm I. and run by Wilhelm II. until his death.
Pauline zu Wied was a true horse lover and passionate horse breeder. It was her who recognized the quality of Mohammed Ali's Egyptian Arabians that would well match to the existing bloodlines at Weil.
One day she saw a photo of a grey stallion of Mohamed Ali's stud in Egypt. That stallion had a rather short head and short neck. He had a roman nose with wide forehead and big eyes and nostrils. He had good shoulders, mid-long back and a long croup with high tail carriage. He had a stocky body typical for the Koheylan type of Arabians. The name of the stallion that Princess zu Wied acquired finally with the help of Carl Raswan was Jasir.
Jasir was sired by Mabrouk Manial who left only a few foals. But especially his daughters were important for the Egyptian breeding program. Among those daughters were Sabah, Bint Radia and Jasir's full-sister Mahroussa. Sabah and Bint Radia founded their own families in Egypt while Mahroussa had big influence in the United States through her daughters Maaroufa and HH Mohamed Alis Hamama and through her son Fadl (paternal grand-sire of Fadjur).
Like Mahroussa, Jasir was out of Negma, a very noble, grey mare. Negma was by Dahman El Azrak out of Bint Yamama who traced to the desert bred mare Ghazieh of the Saklawi Jedran Ibn Sudan strain. So, Negma is from the same strain as the famous Egyptian Moniet El Nefous family.
Princess zu Wied imported Jasir to Weil in 1930. Unfortunately, he could not prove himself as sire there because the Princess had to disperse Weil Stud already two years later.
Luckily, Wilhelm II. ordered in his testament to continue his breeding program of Purebred Arabians, so the horses were not simply sold to private breeders but were taken over by the German state of Wuerttemberg. Some of the horses went to State Stud of Trakehnen (then Prussia) while others including the seven-years-old Jasir were sent to Marbach State Stud, located 37miles south-east of Stuttgart. That is were the Marbach Arabian horse breeding program started that still lasts today. Jasir became the earliest foundation sire of the program.
At Marbach, he sired the daughters Jacaranda, Jatta, Isabella, Jemen and Jadine who still have descendants in Marbach today, or they became foundation stock of private Arabian horse breeders. Jacaranda and Isabella became influential in the breeding program of Getraude Griesbach's Achental stud. Jasir's daughter Jadine is the granddam of Dschadaah, the only Marbach bred mare that ever won the World Senior Mare Championships in Paris.
Jasir had only two sons that bred on. One was Jason out of Dinarsad who sired warmbloods but left no purebred foal. The other one was Jager, who sired no purebred sons in Germany. He was exported to Sweden in 1953 where he used on Swedish warmblood mares as well as on purebreds. His purebred daughters Rumaila and Kamila came back to Germany. Rumaila was foundation mare at Helau Stud and produced five state-licensed sons and five daughters. Rumaila's sons Achmed and Sascha were excellent dressage horses.
Jager sired some purebred sons but unfortunately, none established a sire-line and so the purebred male line of Jasir died out.
Marbach used Jasir until 1946. His last registered purebred foal was born in 1947. One year later, he was given to Baida Stud of Gerd Baumgarten, a breeder of Trotters near Augsburg, Germany.
Jasir stayed with Mr. Baumgarten until his death.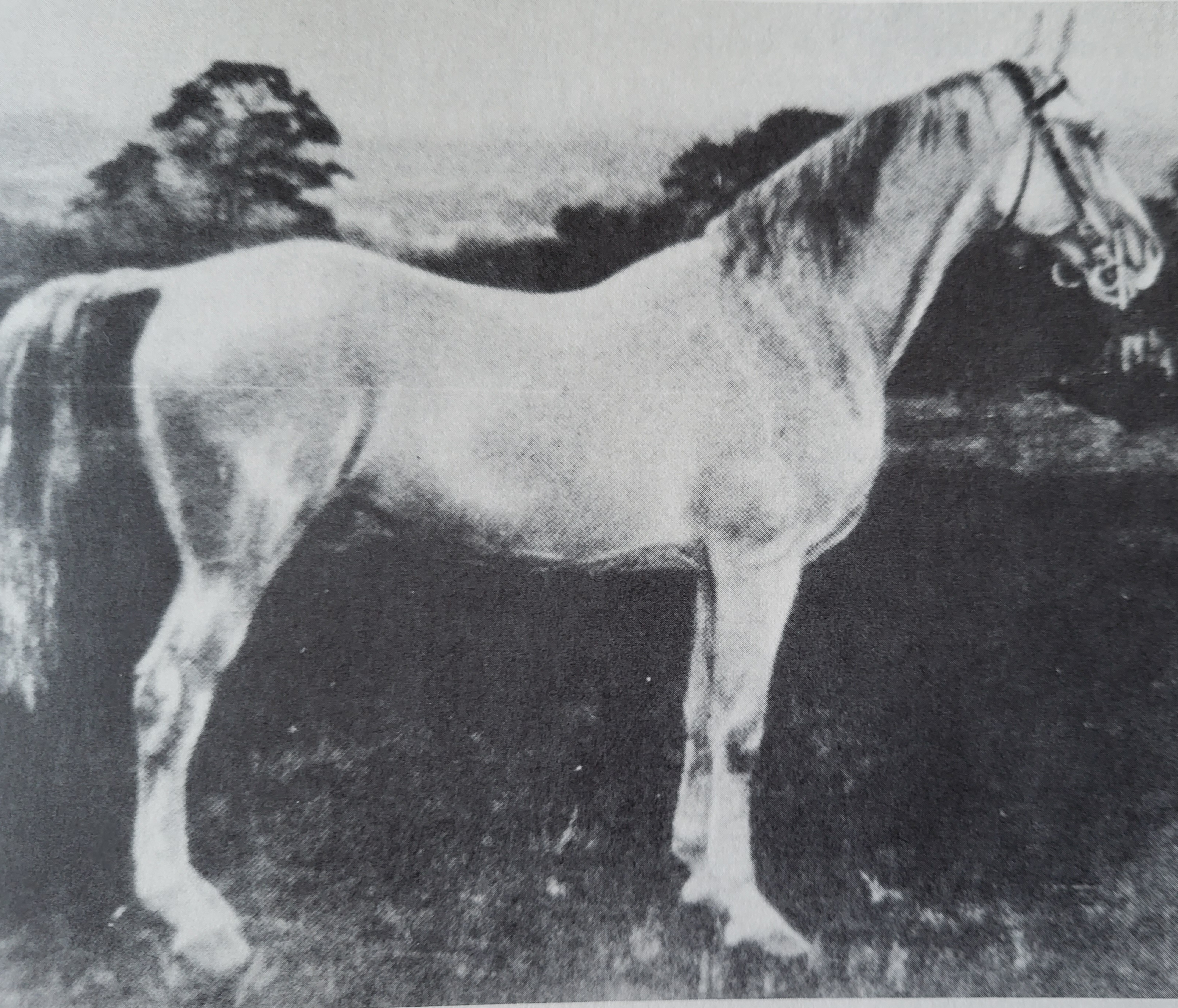 Leopard
The famous General Grant visited the Sultan of Turkey in March 1878. The Sultan Abdul Hamid II was a great admirer of the general and offered him a horse from his stables. General Grant was impressed by a stallion that was given to the Sultan by the Turkish governor who acquired him from the Anazeh Bedouins. This dapple-grey, five-years old stallion went by the Turkish name of Djeytan but was then renamed to Leopard.
Leopard was shipped to the United States where he arrived in New Haven, Conn. in May 1879 with another Arabian stallion named Linden Tree.
According to different sources, Leopard was either of more or of less quality than Linden Tree. This dapple-grey stallion excelled by having a long neck and a nicely built shoulder. His trot was impressive with good knee action and a lot of hock flexion. He was 14.75 hands high but appears bigger. Besides his good points, Leopard lacked at his hindquarters which could be better. He had a rather sloping croup, soft pasterns and poor feet.
General Grant did not show much interest in his two stallions. He gave both to Rudolph Huntington who used Leopard on his Clay Trotters to add nobility and trotting action. The resulting products, Huntington called Clay-Arabs which became one of the foundation breeds of the modern Standardbred.
Through Leopard, Huntington became interested in purebred Arabian horses. Unfortunately, no purebred mare was within his reach. So, Rudolph Huntington imported the mare Naomi (Yataghan x Haidee) from England.
Naomi was bred to Leopard resulting in the colt Anazeh born in 1890. He stayed the only purebred foal by Leopard. Anazeh was the earliest born and registered American Purebred in the Arabian horse Club Registry of America.
Anazeh sired four registered sons, of which only Naaman (x Nazli) sired purebred foals. His only son Naaman II produced no foals and the sire-line of Leopard died out with him.
The line to Leopard only lives on through the three daughters by Anazeh, in particular through Narkeesa (x Naomi). Narkeesa produced the stallions Araby (by Hamrah), Leucosia (by Haleb), El Sabok, El Sakab and the mare Leila (all by El Jafil). Leila was used as broodmare at the Kellogg Stud. From Narkeesa's sons El Sabok is the most important. He sired the stallion Stambul who is the sire of Alla Amarward.
In 1894, Leopard was acquired by General Colby of Beatrice, Nebraska and was rejoined with Linden Tree who was sold six years earlier to the general.
The exact date of death of Leopard is not known.
Coming soon
OM EL SHAMPANE (September, 30th)
FLISAK (October, 5th)