Rusleem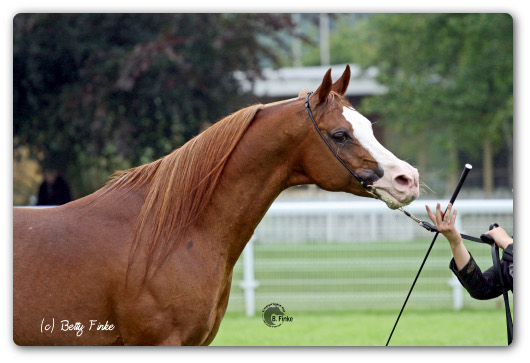 The stallion Rusleem attracts attention by his Sabino coloring, chestnut with much chrome. But that does not surprise if one look at his pedigree which is full of Crabbet horses that are well known for producing Sabino Arabs.
His dam Rullante is sired by Roxan who traces back to the Straight Crabbet stallion Count Dorsaz. Count Dorsaz was a long-time chief sire at Bazy Tankersley Al-Marah Stud, USA where he produces successful (Western) ridden horses.
Rusleem's sire El Saleem is also a very well-ridden stallion. He became British National Ridden Champion. El Saleem is the sire of the mare OAS Panache, also a Sabino.
Due to all that well-ridden and successful show horses in his pedigree, it's no wonder that Rusleem is successful at show classes as well. He is the only British Arabian horse to have been Junior, Senior and Ridden Champion at Towerlands.
Info
chestnut sabino stallion
foaled: 1989-00-00
died: n/a
sire: EL SALEEM
sireline: Saklawi I (via El Shaklan)
dam: RULLANTE
damline: Rodania db (branch: Riyala)
strain: Koheylan Adjuz Ibn Rodan
additional information: Junior, Senior and Ridden Champion at Towerlands
Breeder:
John or Pat Coward
Cwm Farm
UK