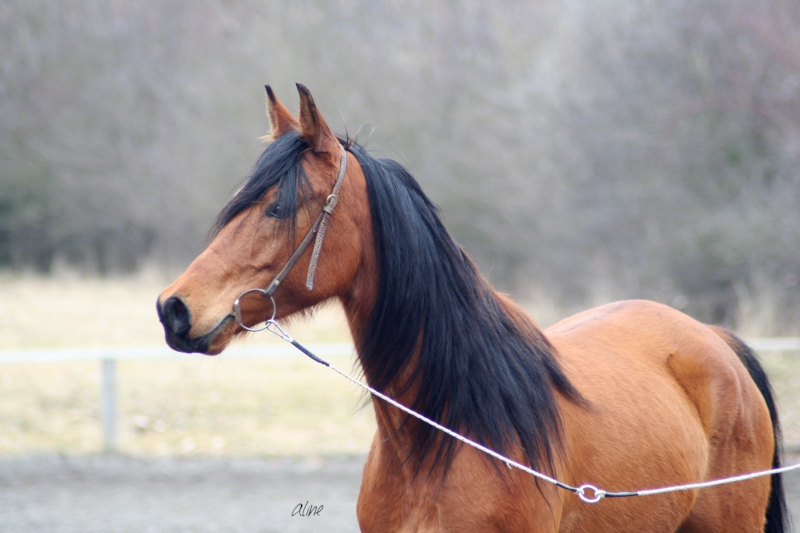 Eastwind
The gelding Eastwind is a son by Italian National, European and World Champion Senior Stallion Piruet, who was bred at Janow Podlaski Stud and is sired by Probat.
Eastwind's dam Elsina was bred by the German Ostenfelde Stud. She was sired by German Elite Stallion Camerton out of Ekipada by German Elite Stallion Euben, both of Pure Polish blood.
Eastwind has been teached a lot of tricks. His owner can crawl below his belly or Eastwind can do 'sit' like a dog.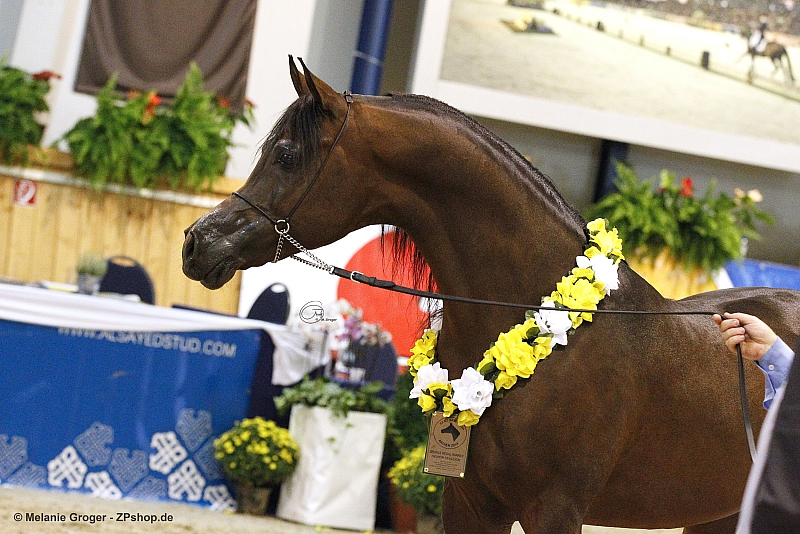 photo: Melanie Groger - ZPShop.de
Equator
Equator is sired by World Gold Champion Stallion QR Marc, a son by Marwan Al Shaqab that needs no more introduction.
Equator was born in 2010 at the world-renowned Polish state stud of Michalow. His dam is Ekliptyka, a daughter by Ekstern. European Triple Crown winner Ekstern was chief sire at Michalow producing successful show horses like Palanga, Wilga, Gilly J, Eternal or Esparto and valuable broodmares. He died in 2022 at the age of 28.
Ekliptyka's dam traces to the E-family of Estokada. Estokada was by Amurath Sahib, a Polish bred stallion which pedigree is influenced by old Weil bloodlines, too. Through her sire, Estokada was half-sister to Arax and the mare Balalajka, dam of Bask.
Equator is not only a successful halter show horse being named All Nations Cup Silver Champion Stallion, European Gold Champion Stallion and World Gold Champion but also a proven sire producing Zlota Mysl (x Zlota Bulla), Polish National Silver Champion Yearling Filly 2021, Mona Lisa Aljassimya (x Minwah), World Silver Champion Yearling Filly 2019 or Zaher Al Muawd (x Espinilla), a successful Junior Champion colt in Kuwait and Saudi-Arabia.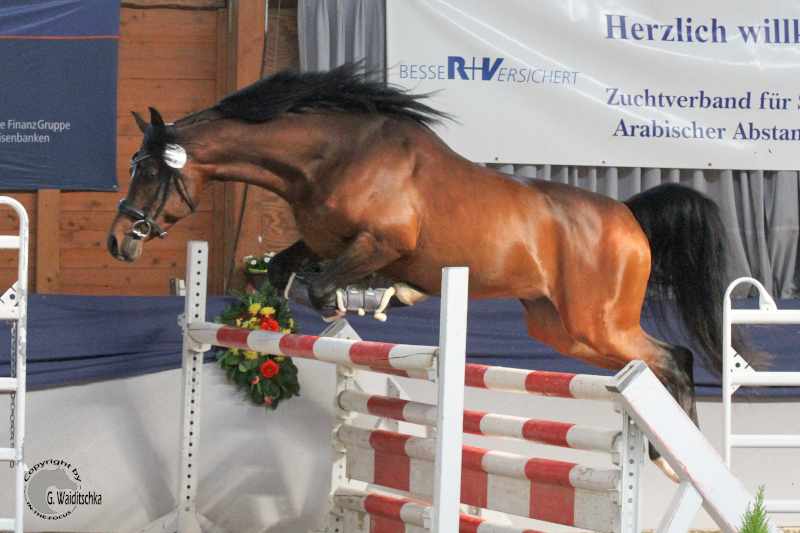 COF Mirajj
COF Mirajj is a son by 2016 US Nat. Champion Senior Stallion Marajj. Marajj is a son by Marwan Al Shaqab, a legendary halter champion producer. Marajj's dam is RGA Khouress, a mare that also produces DL Marielle, full-sister to Marajj and dam of multi Junior Champion winner Kanz AlBidayer.
COF Mirajj's is OFW Hahnah. Her pedigree includes 2002 Scottsdale Grand Champion Stallion Besson Carol and American Triple Crown Winner of 1992 Echo Magnifficco.
COF Mirajj was trained under saddle but also was halter shown and awarded with the Silver Champion stallion title at the German Nationals in 2018.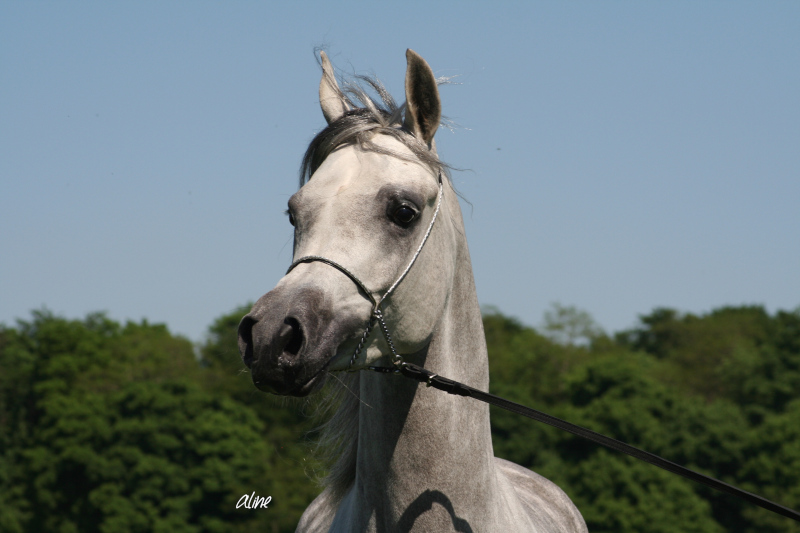 Aishaa 2003
Aishaa by AS Natsir-Apal. AS Natsir-Apal was successful at shows as a Junior hors, e.g. he was Belgium Nat.Junior Champion 1996 and 1997. His maternal half-brother is AS Sinans Pascha, also a very successful show horse (1999 World Reserve Junior Champion, France).
Aishaa's dam is Bint Sanadiva who also brought Azeem Ibn Justice, a successful halter show horse in the United Emirates. Aishaa's maternal granddam is the dam of Scottsdale champion FS Bengali.
Aishaa is an extremely beautiful, female mare. She was crowded German National Champion Mare in 2007.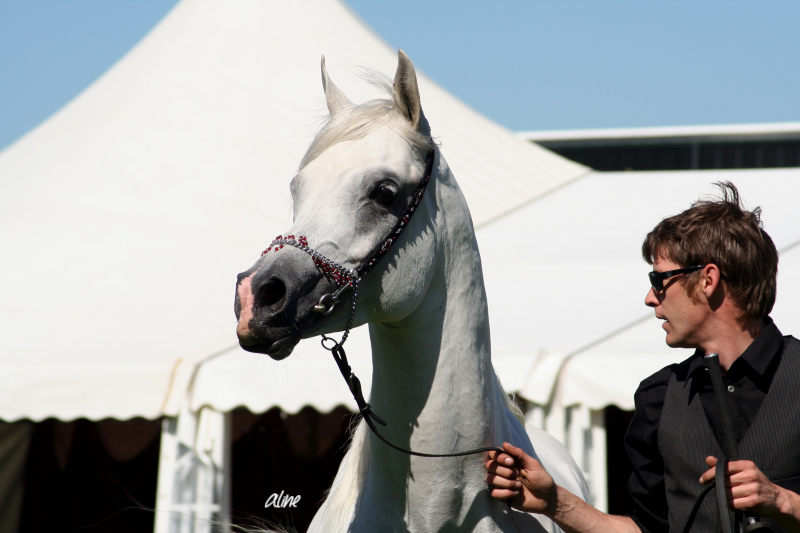 FM Shah Mahes
FM Shah Mahes is a Straight Egyptian son by Mahadin captivates by his movements and beautiful head and neck. His sire Mahadin is a son by German elite stallion Madkour I who was sired by the Egyptian import Hadban Enzahi. Hadban Enzahi was used at Marbach state stud and produced excellent broodmares that have been stamped by him.
Mahadin himself was on lease to Marbach in 2008/2009 siring stallion Naoufil (x Namije) who is now used at stud.
FM Shah Mahes dam Dahmraks Asjah Bint Ashira is a daughter by El Thay Shah Manial, a grandson resulting from Ansata Halim Shah's lease to Germany in the early 1980's. Asjah Bint Ashira's damline traces to German elite mare OM El Arab, an Egyptian mare bred at Badeia Stables and imported to Germany by Rüdiger Merz/Om El Arab in 1971. Ten years later, having produced 6 foals, Om El Arab was acquired by Siegfried and Brigitte Kübe and became their foundation mare producing another 10 foals.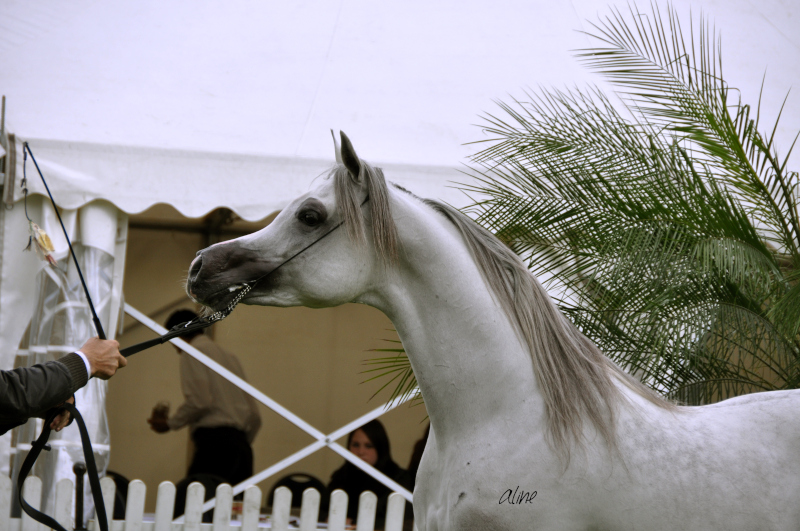 Baha AA
Baha AA is out of Baraaqa AA, a daughter by Laheeb IASB. Laheeb was Straight Egyptian and a multi champion. He was Israeli National Senior Champion twice. Through Laheeb, Baha AA is half-brother to World Champion Stallion 2006 Al Lahab (x The Vision HG).
Baha AA is sired by Al Asyad whose sire line traces back to Hadban Enzahi. Hadban Enzahi was a grey stallion by famous Nazeer, imported from Egypt to Germany's state stud of Marbach in the late 50's where he left excellent foals.
Al Asyad was a successful halter show horse. He was awarded e.g. Senior Champion at the Israeli Egyptian Event in 2006 or Asil Cup Champion in 2008. Al Asyad died in 2009 at the age of 10.
Baha AA himself is a successful halter show horse. He was named, e.g. Israeli National Champion Colt 2011 and Champion Stallion at the Egyptian Event 2014.