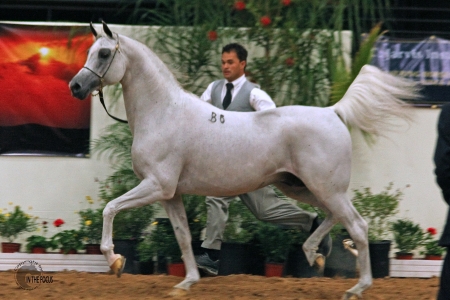 El Nabila B
While European and World Champion Stallion Kubinec was on breeding lease to Hungarian State Stud of Babolna in 1995 he covered several Straight Egyptian Mares. One of them was Elf Layla Walayla who delivered a grey colt the next June. That colt turned into the most successful representative of the Kubinec foal crop at Babolna. His name is El Nabila B, Arabic for 'The noble one'.
The grey colt grew up into a beautiful white swan impressing everyone with the athletics of his Russian sire and the Egyptian grace of his dam.
Both of his parents had been successfully shown in halter and so was El Nabila B. In 2002, he was exported to Brazil where he turned to be Brazilian National Champion Stallion in 2004. In 2010, he was competing at the US Nationals where he was awarded National Champion Stallion.
Impressed by his beautiful daughters in Brazil, Johanna Ullstrom could acquire El Nabila B for Psynergy Patnership and brought him back to Europe in 2007.
Staying in Europe for quite some years he was re-imported to the US standing at Om El Arab now.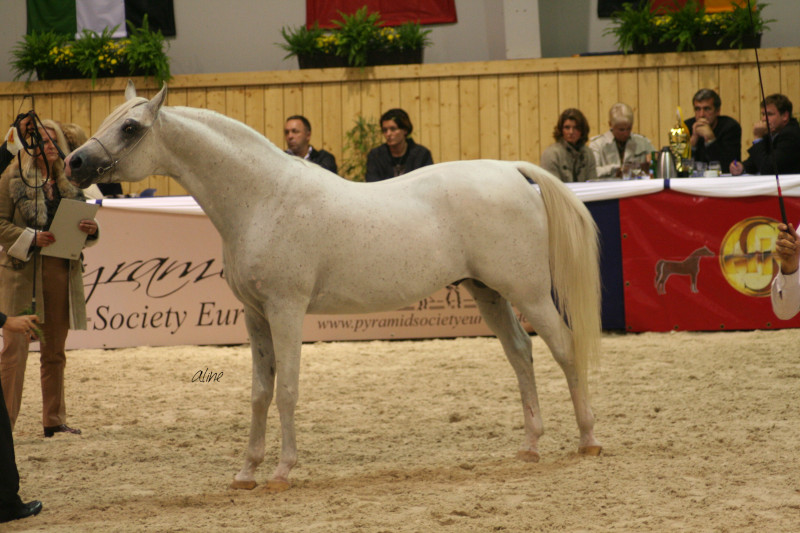 Davidoff 1995
The Straight Russian stallion Davidoff was by European and World Champion Stallion Kubinec. His dam Nikita was sired by Nrav Ibn Aswan and thus a direct granddaughter by the great Aswan. Bred in Tersk, Nrav was imported to Germany in 1981 where he was registered Narav Ibn Aswan.
Nikita's dam traces to Najada, an Aswan daughter who was imported to Henry Garde's Almenich stud in Germany where her daughter Neposa by Kilimandscharo could establish her own family. Najada was later imported to the U.S. by Howard F Kale Jr.
Nikita died at the age of 7 in 1998, producing only two more sons: Shir Khan and Tibet, both full-brothers to Davidoff. The bay Tibet was a successful endurance and dressage horse in France.
German Elite stallion Davidoff was an excellent example that show and riding quality can be combined. On the one hand he was a multi Int. Junior Champion at Halter and Top 5 at the German Nationals 2007 as a Senior Stallion. On the other hand he was state tested with getting a stallion license at Marbach in 2001 and wins in different Dressage competitions. His sons SC Dalmas, SC Dyonn and SC Dagash belonged to his most famous offspring.
Davidoff spent his final years with Hans Dieter Leist in Germany. In 2020 he preceded his full-brother Tibet in death at the age of 25.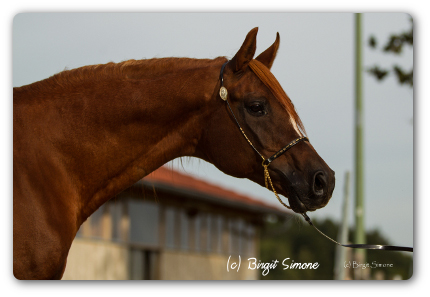 Kuwait 1996
Kuwait is a typical son by European and World Champion Stallion Kubinec.
His dam Jasminah was a double Mansul granddaughter. Mansul was chief sire at Saalegrund Arabians, Germany, a stud farm that was mainly founded on Old German bloodlines. So, in Mansul's pedigree the Polish bred sires Wisznu by Witez and Halef by Enwer Bey can be found as well as Egyptian bred mare Malikah by Ghazal.
Jasminah's ganddam is Jaszirah by Kaisoon who was foundation mare of Saalegrund Arabians.
Kuwait impresses by his size and his trot action. He was shown as younger horse successfully (Junior Champion Gieboldehausen and second in class at Aachen and Verona). Being used as a riding and breeding stallion since, he had his halter show comeback at the National Breeder's Cup in 2014 where he was named Senior Champion Stallion.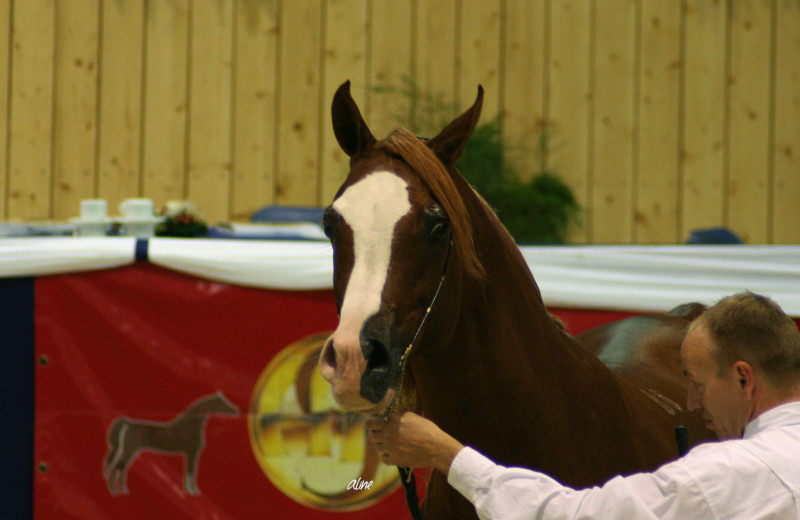 Malik B
In 1996, a flashy chestnut colt was born to 222 Ibn Galal I, a chestnut Straight Egyptian broodmare at Babolna. She traces to the Egyptian imported Momtaza (or 8 Momtaza in Babolna). Her sire was Ibn Galal I, a son by the famous Galal I (or Magdi) -full-brother to El Mokthar- who produced in Babolna as well as in Germany.
The flashy chestnut colt was named Malik B. He's a son by European and World Champion Stallion Kubinec who was bred at Tersk Stud and imported to the Netherlands and sold at the Kossack Stud Sale to Osterhof Stud, Germany which owned him for the rest of his life. Kubinec sired many Halter Champions like FS Bengali, El Nabila B or Koronec - just to name a few. He died in shortly before Christmas 2012 at the age of 25.
With his blaze and 4 white legs, Malik B resembles Kubinec but with the Egyptian 'glaze' of his dam. After winning Junior Colt Championships at the International Show at Wels, Austria (beating the Balaton son Narym), he's started his breeding career at Babolna State stud stepping into the hoofprints of his famous sire Kubinec.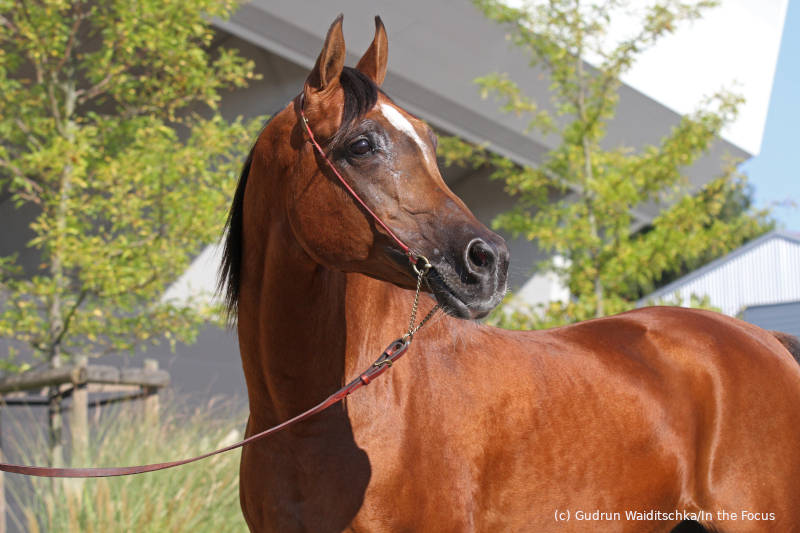 Narym
In 1994, the Neman daughter Nemara gave birth to a copper bay colt at the Kossack Stud. He was named Narym. Desiree Basile, his German breeder, did a good choice by covering Nemara with Balaton, a top Russian producer, chief sire at Tersk and the 'Horse of the Century'. Nemara gave birth to nine other foals but only Narym shone through.
Narym won the German Nationals in 1996 as junior horse and was awarded with the gold ribbon at the German stallion lisencing show 1997. He was later purchased by Karl Heinz Stoeckle of Osterhof Stud before he was sold to Switzerland and Spain. He was re-imported to Germany in 2014. In Germany he sired 40 foals.
Beiing awarded German Elite Stallion in 2015, Narym died suddenly in 2018, two years after he was halter shown the last time at the German Nationals at Aachen.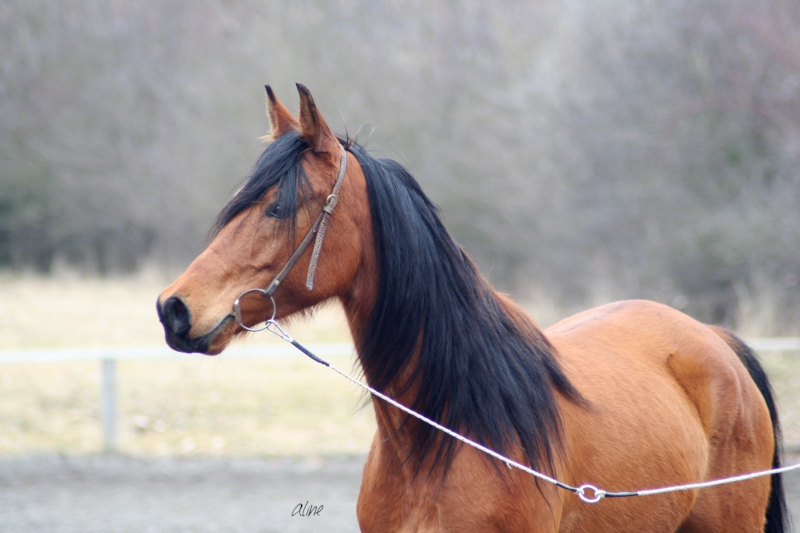 Eastwind
The gelding Eastwind is a son by Italian National, European and World Champion Senior Stallion Piruet, who was bred at Janow Podlaski Stud and is sired by Probat.
Eastwind's dam Elsina was bred by the German Ostenfelde Stud. She was sired by German Elite Stallion Camerton out of Ekipada by German Elite Stallion Euben, both of Pure Polish blood.
Eastwind has been teached a lot of tricks. His owner can crawl below his belly or Eastwind can do 'sit' like a dog.