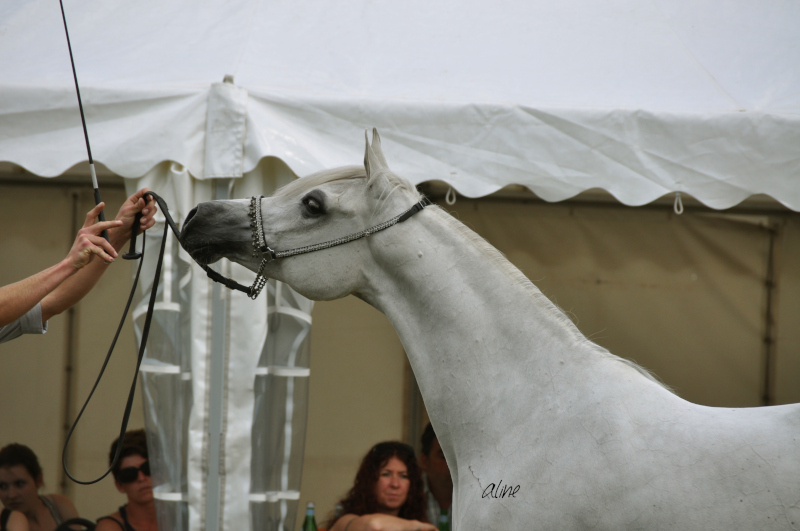 Nahbayka
The mare Nahbayka is one of the last foals of World Champion Stallion Nahbay. Nahbay had a successful halter show career in 1993 winning the German Nationals, the All Nations Cup and the World Championships in Paris. The grey stallion was sired by Jamilll and was out of the Russian bred mare Nika by Aswan. Nahbay died of a heart disease in 2002.
Nahbayka's dam Menita is a straight Russian mare by Tahbal, a son by Mamluk. Mamluk was Swedish National Champion Stallion. Nahbayka's maternal line traces back to Nevada. Nevada, born in Russia in 1970, founded her own family in Germany from which horses like the first female Triple Crown winner Essteema come from.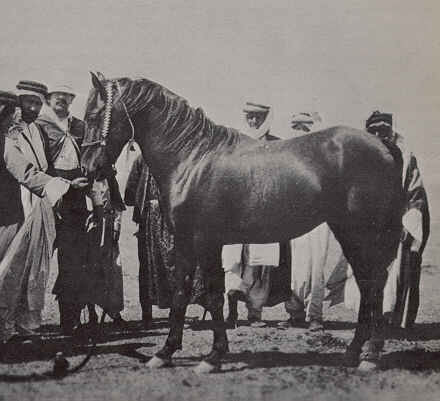 Haleb 1901
When American cartoonist Homer Davenport went on a trip to Turkey in 1906 to buy authentic Arabian horses, a seal brown stallion was presented to him by the Governor of Syria and Aleppo. This stallion -bred by the Qumusah section of the Saba'ah tribe- was from Muniqi Hedruj Ibn Sbaili strain and praised as 'Pride of the desert' due to his beauty and perfectness. His name was Haleb, born in 1901.
Impressed by his beauty and conformation, Davenport acquired Haleb and imported him together with 26 other Arabian horses to the US in 1906. There, Haleb had a lot of admirers. Although small in size, American painter George Ford Morris excelled his strong neck of medium size, his short back, his rounded quarters and well set, natural carried tail. He was also impressed by his expressive, fine head.
Haleb was not only beautiful but made a good saddle horse, too. In 1907, he caused a stir when he won the Justin Morgan Cup against 19 Morgan horses in 1907. As sire, he produced 10 registered purebreds, 3 colts and 7 fillies of whom the daughters Rhua, Meleky and Saleefy are the most influential ones. His sire line, however, is distinct today.
Haleb died under suspicious circumstances in 1909 at the age of 8 years. Rumors were spread that he was poisoned. His skull and partial skeleton were donated to the Smithsonian by Davenport where they can still researched today.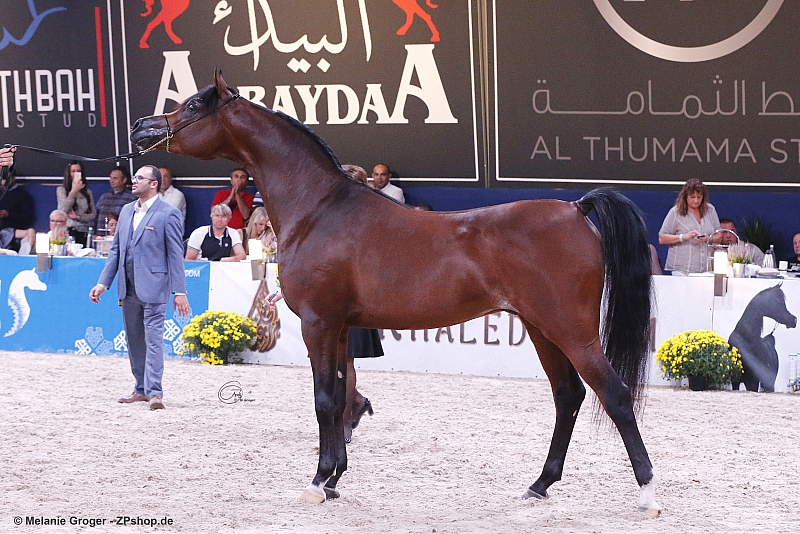 photo: Melanie Groger - ZPShop.de
Gallardo J
The bay Gallardo J is a son by multi champion producer Emerald J bred by Jadem Arabians. Emerald J's dam is Emandoria by Gazal Al Shaqab, World and European Gold Champion mare as both Junior and Senior mare. She is an representative of the exquisite Polish Arabian E-line. Emerald J's sire is QR Marc by Marwan Al Shaqab, also well known in the halter show ring (World and All Nations Cup Gold Champion).
Gallardo J's dam Gomera J is a descendant of Georgia (Eukaliptus x Galia). The bay Georgia founded a family at Jadem Arabians. Her dam Galia was a daughter out of Gwana who was bred by Ismer Stud (Germany). Gwana was imported to Belgium where she was named National Champion Mare in 1990.
Being a son of a multi-champion producer, Gallardo J has the best requirements to be successful in the show ring. And he's been. In 2015, he was named World Bronze Champion Colt 2015. One year later, he was even more succesful as he was named All Nations Cup Gold Champion Colt and World Gold Champion Colt.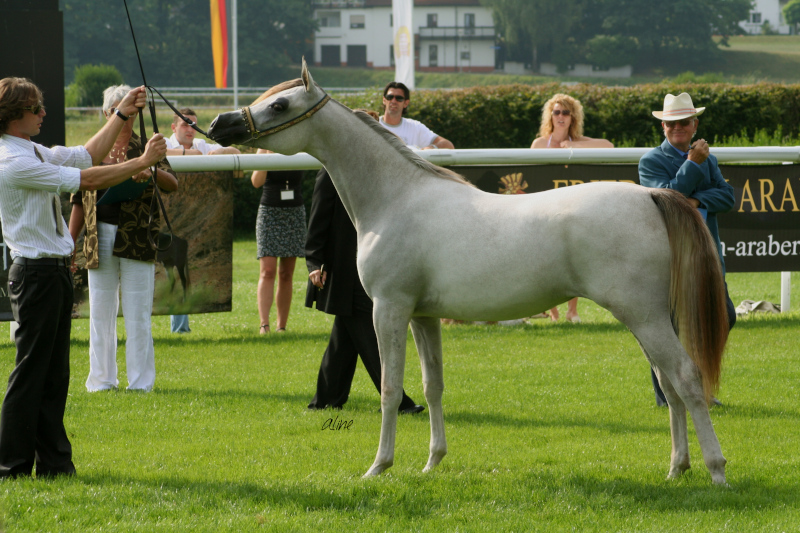 Blush Bint Eternity-D
When a filly turns into rose grey, 'Blush' might be a perfect name for her. At Dion Arabian such a filly was born in 2007. She turned into a grey with red mane and tail and so was named 'Blush'. To honor her sire multi champion and champion producer Eternity Ibn Navarrone-D 'Bint Eternity' was added to her name.
While her sire (World/European/All Nations Cup champion) does not need further instroduction Blush Bint Eternity-D's dam might not be so famous. However, Caprisa is the daughter of Pure Polish Cewiarka, a fertile broodmare, producing 18 foals including the Austrian National Champion stallion Corall (by Nadir I), an eye-catcher which his golden color and white mane and tail, and French National Champion mare Creatiwa (by Kilimandscharo).
Blush Bint Eternity-D has a full-sister Euphoryah Bint Eternity-D, Emerald Trophy Gold Senior Champion mare of 2014.
There is one registered son out of her: The Ajman Moniscione son Apocalypso-D, a chestnut with a lot of 'chrome'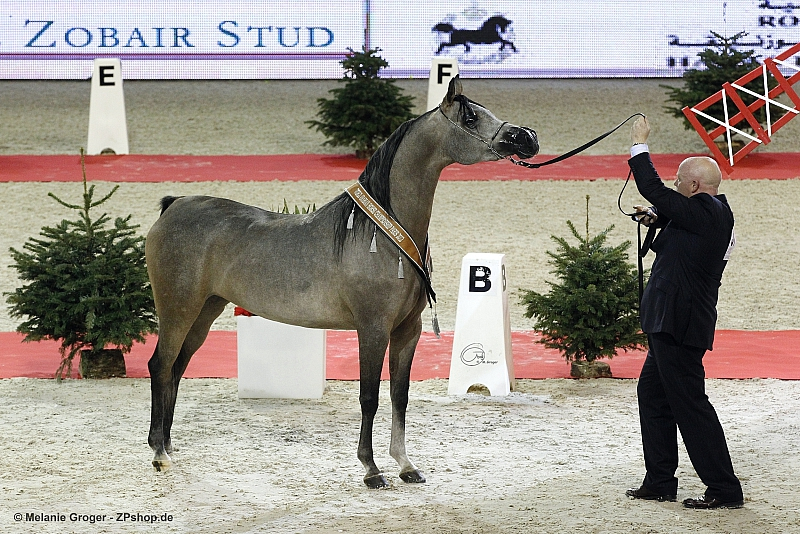 photo: Melanie Groger - ZPShop.de
Perfinka
In 2011 the mare Perfirka gave birth to a filly by Esparto at Bialka Stud in Poland. She was named Perfinka. Perfinka is from the P-family founded by Piewica. The P-family delivers were valued broodmares like Pilarka (great granddam of Pianissima), Pipi or the US National Champion Mare Penicylina. The family also brought good sires like European Reserve Champion Stallion Piechur and Poganin (sire of Kabsztad).
Perfinka's sire Esparto is an Ekstern son. Esparto was very successful at halter shows. He was Polish National Reserve Junior Champion Stallion in 2003 and 2004. In his later years, he suffered from laminitis from which he did not recover. He was put down in 2015.
Perfinka is a dignified descendant of her sire in the show ring. Turning into a beautiful flea-bitten grey mare, she was named All Nations Cup Gold Junior Champion Mare and Silver Junior Female World Champion Mare in 2013 and Scottsdale Senior Champion Mare in 2020.
And also as broodmare she follows her dam's footprints. She produced 4 fillies and 2 colts (2021).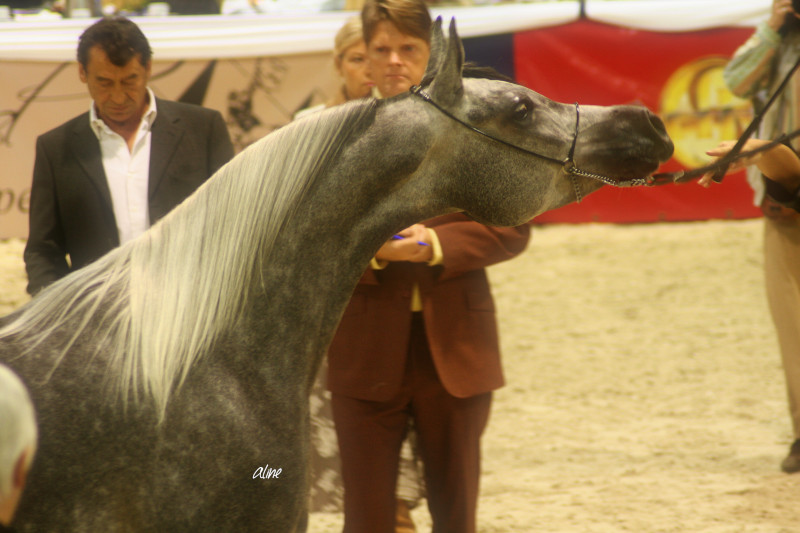 Etnologia
In 2002 World Champion Stallion Gazal Al Shaqab was leased to Poland where he was used for two breeding seasons. His first foal crop at Janow Podlaski was born in 2003, among them was Etnologia.
Etnologia's dam Etalana traced back to the Albigowa bred mare Etna, a Faher daughter out of the bay mare Elzunia by Witraz. Etna founded a vital family of breeding horses and halter show champions there.
From 2008-2012, Etna was used as broodmare at Janow where she produced four foals: 1 colt, 3 fillies. In 2012, before she was purchased by Shirley and Charlie Watts/UK. Her new owner showed her successfully. She was awarded All Nations Cup Silver Senior Champion Mare in 2013 and European Gold Champion Mare in 2016.
Coming soon
AL GUWA BEN-GASHI (May, 27th)
ALI PASHA (June, 3rd)
ARIAN SHAH (June, 7th)
GATSBY CC (June, 11th)
BAHA AA (June, 16th)