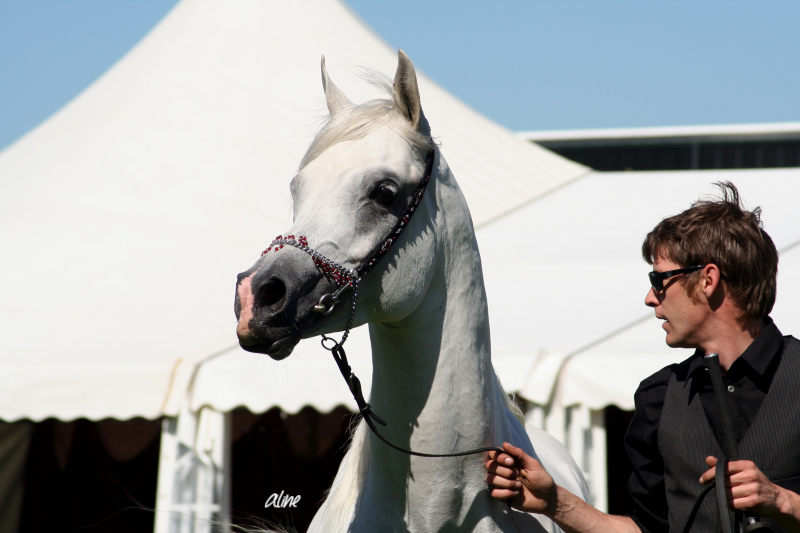 FM Shah Mahes
FM Shah Mahes is a Straight Egyptian son by Mahadin captivates by his movements and beautiful head and neck. His sire Mahadin is a son by German elite stallion Madkour I who was sired by the Egyptian import Hadban Enzahi. Hadban Enzahi was used at Marbach state stud and produced excellent broodmares that have been stamped by him.
Mahadin himself was on lease to Marbach in 2008/2009 siring stallion Naoufil (x Namije) who is now used at stud.
FM Shah Mahes dam Dahmraks Asjah Bint Ashira is a daughter by El Thay Shah Manial, a grandson resulting from Ansata Halim Shah's lease to Germany in the early 1980's. Asjah Bint Ashira's damline traces to German elite mare OM El Arab, an Egyptian mare bred at Badeia Stables and imported to Germany by Rüdiger Merz/Om El Arab in 1971. Ten years later, having produced 6 foals, Om El Arab was acquired by Siegfried and Brigitte Kübe and became their foundation mare producing another 10 foals.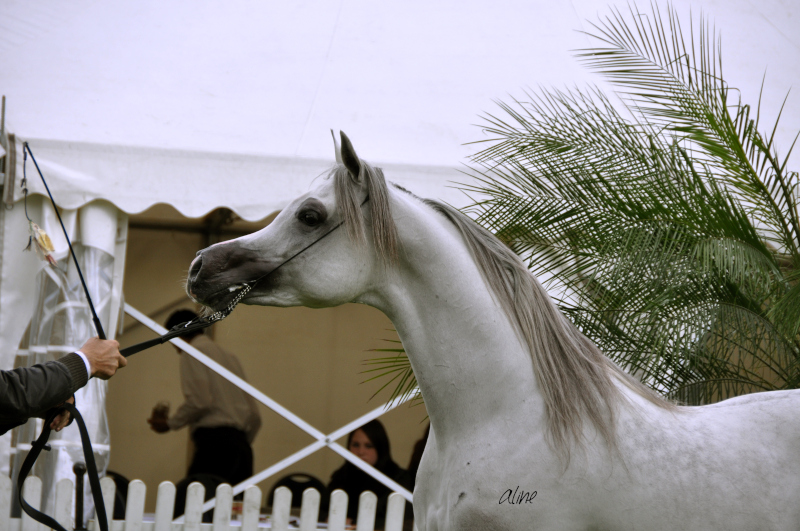 Baha AA
Baha AA is out of Baraaqa AA, a daughter by Laheeb IASB. Laheeb was Straight Egyptian and a multi champion. He was Israeli National Senior Champion twice. Through Laheeb, Baha AA is half-brother to World Champion Stallion 2006 Al Lahab (x The Vision HG).
Baha AA is sired by Al Asyad whose sire line traces back to Hadban Enzahi. Hadban Enzahi was a grey stallion by famous Nazeer, imported from Egypt to Germany's state stud of Marbach in the late 50's where he left excellent foals.
Al Asyad was a successful halter show horse. He was awarded e.g. Senior Champion at the Israeli Egyptian Event in 2006 or Asil Cup Champion in 2008. Al Asyad died in 2009 at the age of 10.
Baha AA himself is a successful halter show horse. He was named, e.g. Israeli National Champion Colt 2011 and Champion Stallion at the Egyptian Event 2014.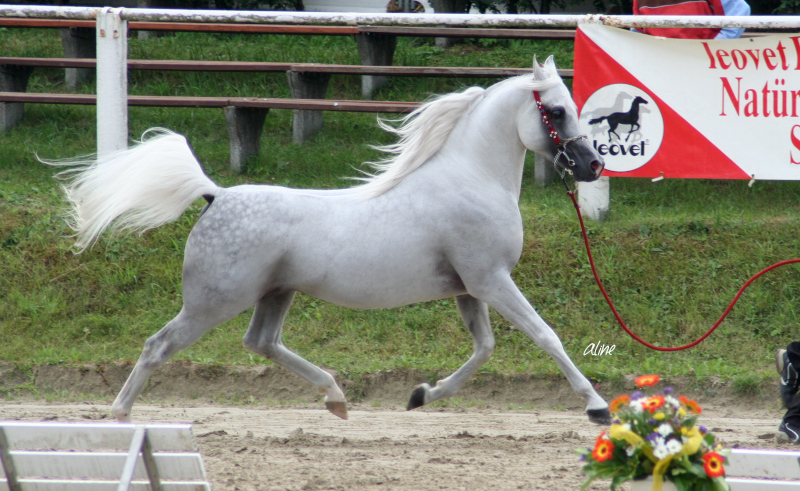 Gatsby CC
Gatsby CC was a Straight Egyptian stallion sired by Shahir. Shahir is son by Salaa El Dine. The German Elite stallion Salaa El Dine was chief sire at Dr. Nagel's Katharienhof Stud until his death in 2005.
Gatsby CC's dam was Miss Maggie Mae, an exotic daughter by The Minstril. Her dam, Bint Magidaa, was known as beeing the most beautiful daughter out of Magidaa.
Gatsby CC was shown multiple times and awarded U.S. Egyptian Event Reserve Supreme Champion Stallion in 2011. Gatsby CC died 4 years later at the age of 16.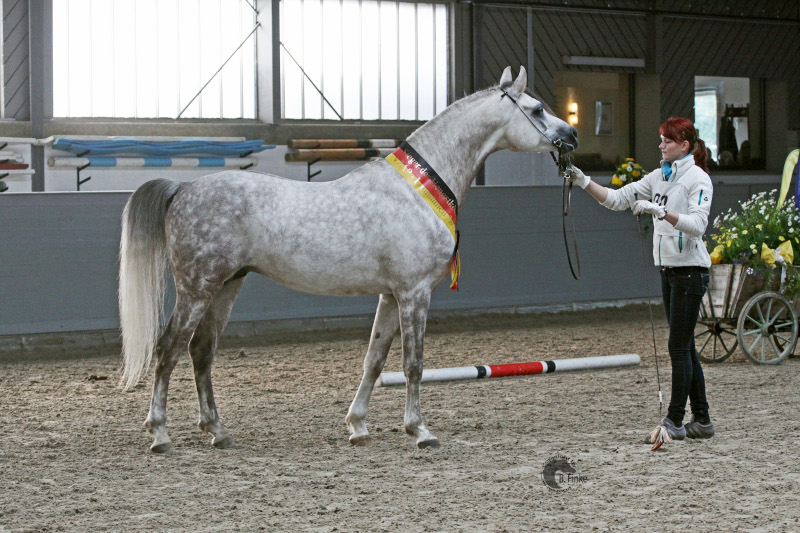 Arian Shah
The big stallion Arian Shah is sired by Jonathan El Ludjin and is out of LM Alisha. Jonathan El Ludjin directly traces back to Morafic in his sire line through the stallion Ruminaja Ali. Jonathan's dam, the bay NV Justa Dream is a daughter by Bey Shah (who was a top producer in the United States) and a grand daughter by the Polish stallion Toi Soldier. Bey Shah as well as Ruminaja Ali can be found on LM Alisha's pedigree, too. Also, Ali Jamaal can be found on both the dam and sire side of Arian Shah.
Arian Shah has a very mixed pedigree: While the Egyptian, Spanish and Polish lines dominate his pedigree, there is also whiff of Russian bloodlines through SR Nadom on his dam side. Exported to Germany, Arian Shah did well at the Koerung in Luhmuehlen and so was awarded Champion of the Koerung 2012 by the German Arabian Horse Association.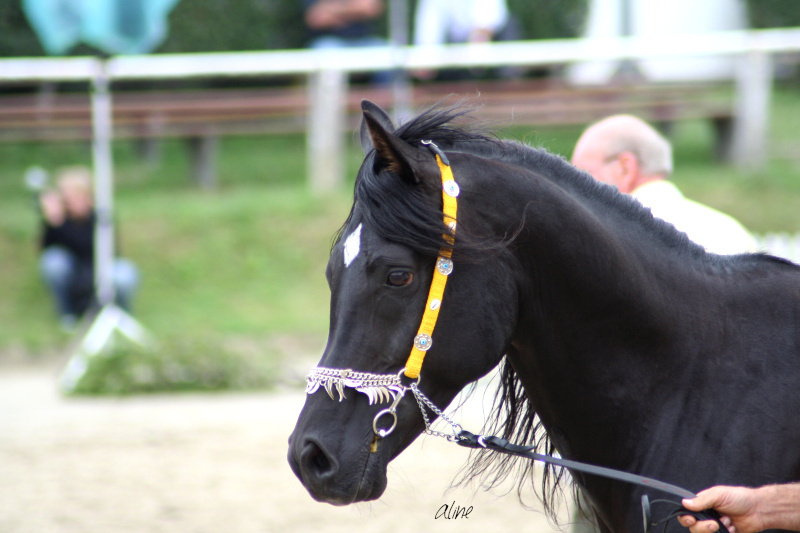 Ali Pasha
Ali Pasha is a black Straight Egyptian stallion by Abbas Pasha I. Abbas Pasha I was born in 1982 at Babolna, Hungary; sired by Ansata AbbasPasha, a stallion bred by Judith and Don Forbis in the US and was leased for one breeding season to Germany in 1981.
Ali Pasha's dam Medani wa a bay daughter by Masir. Masir, a Mehanna son, was a born in Austria and a successful sire in the Netherlands. He left more than 100 foals during his breeding career.
Medani's dam line traces to Hind (1942), a Saqlawiyah.
Ali Pasha was presented at the German stallion licensing show in 2000 where he was awarded with a silver ribbon. Standing at Fazeskas Arabians in Germany he sired 18 registered foals (6 fillies, 12 colts).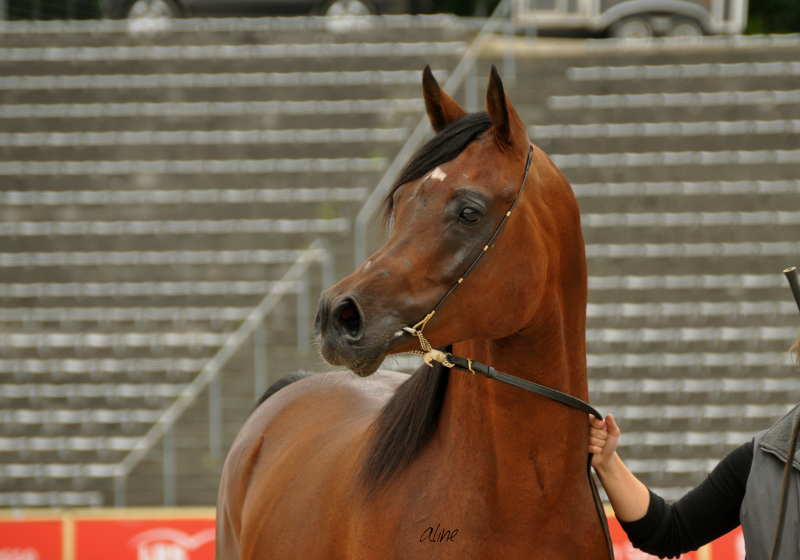 Al Guwa Ben-Gashi
Al Guwa Ben-Gashi is a son by Shaklan Ibn Bengali. Shaklan Ibn Bengali was a National and International champion at halter shows and was shown under saddle ad Dressage and Show-Jumping competitions.
Through his sire, Ben-Gashi traces back to Balaton and to the beautiful mare LM Sadunga by El Perfecto.
The stallion Balaton can also be found on the damline of Ben-Gashi as his dam Barca is daughter by Balaton. The dark-chestnut mare Barca was bred by Kossack Stud and traced back to Sowjet National Champion mare of 1967 Nalpa, a daughter out of Nitochka, the full-sister to internationally influential sire Negatiw. Barca died in 2019.
Al Guwa Ben-Gashi was shown at halter shows mainly in Switzerland and France. In 2014, he awarded Swiss National Gold Champion Stallion in 2014.
Coming soon
AISHAA 2003 (June, 28th)
COF MIRAJJ (July, 7th)