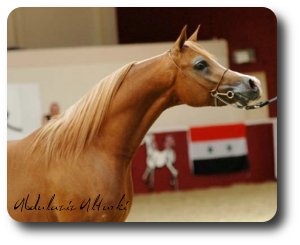 Marquis CAHR
Marquis CAHR is World Gold Champion Stallion of 2011 following the success of his sire Marwan Al Shaqab, who was World Champion Colt in 2001 and 2002 and does not need for instructions here.
Marquis' dam is Rohara Magnifica, a daughter by US top producer and American Triple Crown Winner of 1992 Echo Magniffico. Her dam Savannah DHS is Straight Russian incl. Plakat and Neptun in her pedigree. Her dam line traces back Gazella db via Taraszcza.
Through his dam, Marquis is half-brother to US National Reserve Champion Majesstic.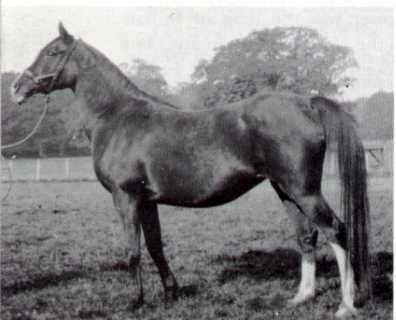 Nisreen
Nisreen was born in 1919 and Straight Egyptian. She was a bay great granddaughter of the Blunt's foundation mare Dajania who they brought to England in 1878. Dajania's dam line survived by her only producing daughter Nefisa. Nefisa was the dam of Nisreen's dam Nasra by Daoud who spread the line of Dajania together with her half-sister Narghileh (by Mesaoud).
Through Nasra, Nisreen was half-sister to Naziri, a stallion by Skowronek who looked much like his sire and to the mare Nashisha by Rasim who brought the mare Sharima who founded her own family in the UK.
The sire of Nisreen was the bay stallion Nureddinn II by Rijm out of the Nasra's half-sister Narghileh. Nureddinn II was a very fine upstanding horse with good limbs and a nice, sloped shoulder with much presence. Lady Wenthworth used Nureddinn II carefurelly on her mares. He left a bunch of good offsprings. Among those was the stallion Ferdin and the mares Ryama, Somara, Namilla or Rifna.
Although Nisreen was not considered beautiful or typey, she brought excellent daughters of high influence that carried on the Crabbet 'I'- line which Nisreen established. But first of all her most influential son should be named here: Indian Gold by Ferhan. He sired Dancing Star, Gleaming Gold, Serafina or Silver Gilt.
Nisreen's first born daughter was Nasirieh by Skowronek who was exported to Australia along with Nisreen's son Indian Light. Unfortunately, Nasirieh failed to established her own family down under.
Nisreen's second daughter was Incoronata, full-sister to Nasirieh, who was imported by Kellogg to the United States in 1936 and founded a small family there.
Indaia by Raseem, Nisreen's third daughter, produced Indraff, foundation stallion at Bazy Tankersly's Al-Marah Stud in the US.
Indaia's full-sister Indian Crown was the most influential daughter out of Nisreen. She produced Indian Magic, British National Champion Stallion and the mare Incoronetta who was Reserve National Champion Mare in the UK in 1964 and was the dam of African Queen, Azara and Silvanetta.
In 1938 and 1939, Nisreen produced her last foals, two fillies by Irex: Indian Pride and Indian Flower. The first one brought the mare Indian Starlight and the chestnut stallion Indian King by Oran who became a good sire.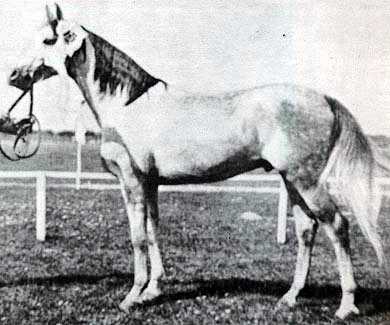 Flisak
Flisak was a grey stallion by the Janow Podlaski chief sire Bakszysz. Bakszysz was a son by the desert bred Ilderim who came to Slawuta Stud, Poland in 1900. Ilderim left only a hand-full of foals but his son Bakszysz was an excellent sire. Through him, the sire-line of Ilderim became very important in Poland.
Besides Flisak, Bakszysz sired the grey stallion Fetysz who was chief sire at Janow as well before he was transferred to Trakehnen where he became an influential producer.
Although he contributed a chief sire to Janow and Trakehnen, Bakszysz was better known for producing excellent broodmares. Among his daughters were Dora (maternal granddam of Mammona), Dziewanna (dam of Piolun, Skrzyp and Roszmaryn), Limba or the dam of Wielki Szlem and Lowelas, the bay Elegantkah.
Flisak was the second born foal and first born son to the grey mare Elstera. Elstera was bred and born at the Antoniny stud, sired by Ibrahim, the same Ibrahim who sired the legendary Skowronek. Her dam was Lezginka sired by the desert import Obejan Szarak. Lezginka traced to the Slawuta mare Szweykowska. Elstera also produced Polish Derby Oaks winner Ikwa.
Also Flisak was raced and won the Polish Derby in 1927. Although he lacked of Arabian type he was used as sire at Janow Podlaski due to his racing career. His first foal crop was born at Janow in 1931. Among those first foals was the mare Mokka who was out of Dziwa, the dam of Ofir and Taki Pan. Mokka was the dam of Lotnik, exported to the US in 1945 and the dam of Mokdiara, granddam of the grey stallion Madrygal by Naborr who was exported to the US in 1966 standing at Sandy Acres Farms siring 62 foals until his death in 1965.
Flisak's second daughter, that should be named here, was the chestnut Ba-Ida (or Baida). Ba-Ida was imported by General Dickinson of Travelers Rest Farm in the USA. There she produced the black stallion Bataan. Bataan was given to the US Government where he was used in the Remount Service, known as The Black Arab of the Remount.
Another daughter by Flisak was Cemira who went to Tersk Stud in 1939. She is the dam of the excellent broodmare Cerekiew, the dam of Carycyn, Czester and Ceramika.
Although his daughters contributed nicely to the breed, none of his sons bred on. One of Flisak's last registered foals was the stallion Atlas born in 1940 who died tragically in February 1945 during the WW II. The whereabouts of his sire Flisak during WW II is not known. Maybe he died during flight, too.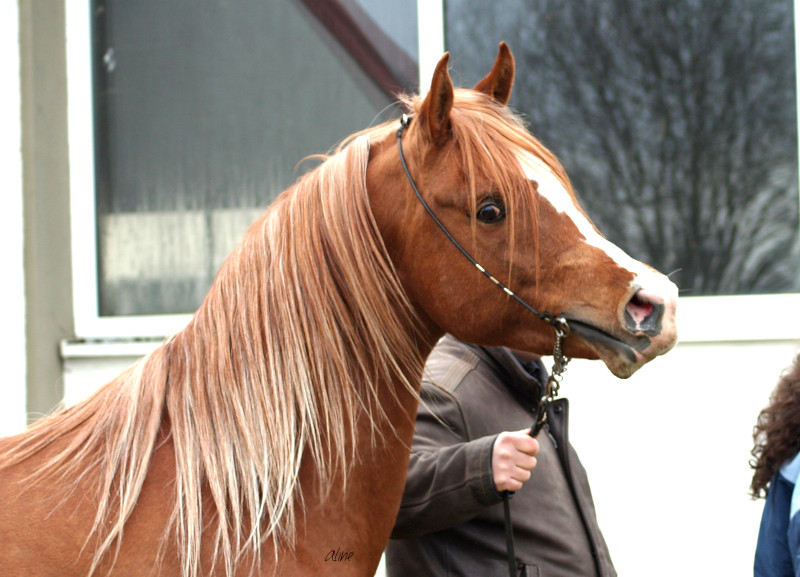 Om El Shampane
On a hot Californian summer day of 2005, Om El Shadeeka gave birth to her first foal, a chestnut colt with flaxen mane and tail. Sigi Constanti of Om El Arab, the breeder of the colt, named him Om El Shampane. The name fits his color coat very well.
Om El Shampane's dam Om El Shadeeka is a daughter by Sanadik El Shaklan and out of Om El Shaina. Om El Shaina was the second last daughter of the legendary Spanish mare Estopa, the foundation mare of Sigi's Om El Arab Stud.
Om El Shampane's sire is the grey stallion Al Lahab. Al Lahab by Laheeb IASB is a very well known halter show horse in Europe from Straight Egyptian bloodlines. As a Junior horse, he was European Champion and Reserve All Nations Cup Champion Colt. In 2006, Al Lahab was All Nations Cup and World Champion Stallion. Three years later, he competed in the Nations Cup and in Paris again where he was awarded Senior Gold and Senior Silver Champion Stallion respectively.
Born in California, Om El Shampane was imported to Germany in 2007 where he has been standing at Wagner Arabians ever since where he produced around 20 foals plus some foals for different other breeders. Besides his purebred offspring, he sired a Half-Arabian pinto and an Appaloosa colt.
The chestnut Al Lahab son was never halter shown but Om El Shampane was a awarded with a Silver ribbon at the stallion licensing in Aachen in 2008. He has been trained under saddle and officially showed his ride-ability by passing his field inspection test (section: Dressage) at Luhmühlen in 2011.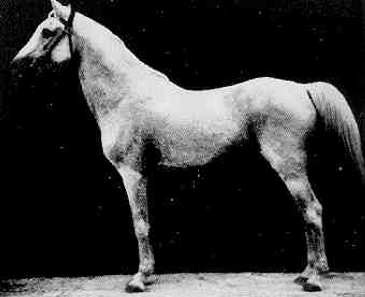 Mabrouk Manial
Mabrouk Manial was a grey stallion by Saklawi II, born in 1912 at the Manial stables of Prince Mohammed Ali in Egypt.
Mabrouk Manial's dam was Tarfa, a grey Koheylah Mimriyeh who traced to Freiha El Hamra, a desert bred mare of bay color. Freiha El Hamra was imported to Egypt by Prince Ahmad Kamal in the late 1880's.
Tarfa also produced Hadban, a half-brother to Mabrouk Manial. Through Tarfa, Mabrouk Manial came from the same strain than Mansour who sired the legendary Nazeer.
Although Mabrouk Manial sired only nine foals, especially his daughters were exceptional breeding individuals.
His daughters included Bint Radia, Sabah, Saada and Mahroussa, one of the most photographed mares of her time.
Bint Radia produced the stallions Hamdan and Shahloul and the mares Zamzam and Samira.
The daughter Sabah was well-known by her daughter Bint Sabah and her daughters Bint Bint Sabah and Bukra who founded their own families in and outside Egypt.
The grey Mahroussa was the most influential of all Mabrouk Manial daughters outside Egypt. She was the dam of Fadl and Zarife and dam of Maaroufa anf HH Mohammed Ali's Hamama.
Fadl and Maaroufa became foundation stock at Babson Farms in the United States while Zarife and HH Mohammed Ali's Hamama became part of the WR Brown breeding program, also in the U.S.
Although his daughters were very profilic, Mabrouk Manial sons should also be named.
With Negma, he produced the stallions Zafifan and Jasir. Latter was foundation stallion at German State Stud of Marbach. Both were full-brothers to previously mentioned Mahroussa.
Mabrouk Manial also sired the stallions Awad and Baiyad.
Awad was the great-grandsire of Moniet El Nefous while Baiyad was an excellent broodmare sire producing Bint Binr Sabah and Samha.
Mabrouk Manial's last foals were born in 1925 when he was 13 years old. In 1927, he was tranferred to R.A.S. Mabrouk Manial died at the age of 21 in 1933.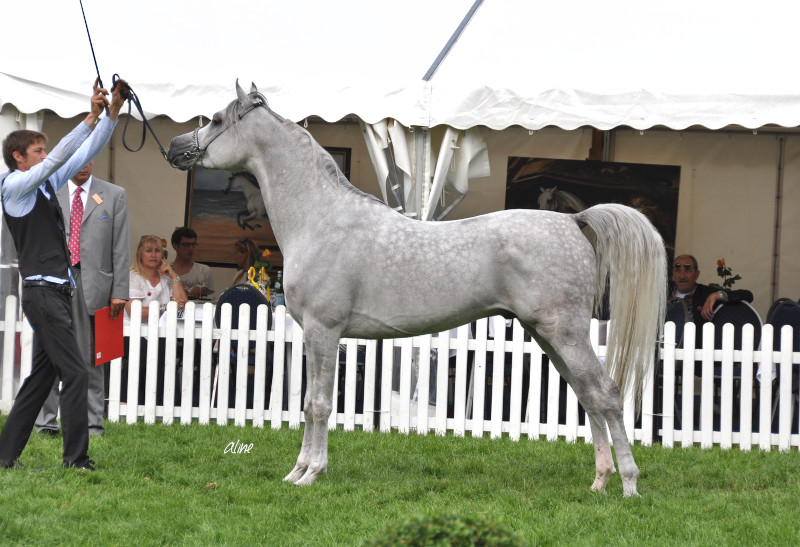 Europe Al Khidar
Europe Al Khidar was born in 2007 at SAX Arabians in Bavaria, Germany.
His sire is Khidar who was sired by Ansata Sinan, a Prince Fa Moniet son. Khidar's dam Elizja has Crabbet and Polish bloodlines in her pedigree which includes two times Ibn Estasha, too.
Khidar was a successful halter show horse in Europe being Belgian National Champion Stallion, European Champion and All Nations Cup Champion as well as World Reserve Champion Stallion.
Europe Al Khidar's dam Essteema was also successful at halter shows. As a two-years ,old she became first European Female Triple Crown winner.
Her sire was World and European Champion Stallion Essteem by Fame VF out of an El Shaklan daughter. Like his daughter, Essteem was Triple Crown winner - the first in Europe!
Essteema's dam Menascha was a Straight Russian daughter by Menes. Bred by Mrs. Garde-Ehlert, she was a foundation mare at SAX Arabians.
Matured into a beautiful dapple-grey stallion, Europe Al Khidar was shown at Marbach and Frankfurt, Germany in 2011 where he became Gold Champion and Silver Champion Stallion respectively.
In 2014, he was presented at the German Nationals where Europe Al Khidar was awarded Bronze Senior Champion Stallion. His full-sister Esskhija was Senior Gold Champion Mare at the same show.
Besides his show career, he was used as sire at his home stud where he sired 21 foals and used by outside breeders.
Coming soon
AMES CHARISMA (November, 30th)