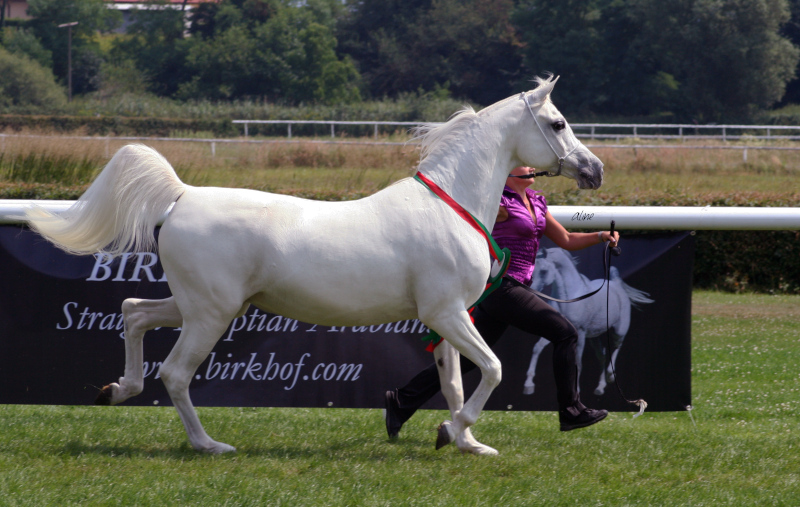 Basara Saiyana M
The grey mare Basara Saiyana M, was bred and born at the Stal Melissa stud in the Netherlands, a farm which was known for breeding classic Spanish Arabian horses. Basara Saiyana M's sire was Mel Nebli who traced back to the Spanish foundation stallion Seandrich. Seandrich came to Spain from Bagdad in 1908.
Basara Saiyana M, however, resembles her dam Mel Quelinka who was a daughter by Calero. Calero was also the paternal grand sire of Spanish National Champion Arabian Beauty who sadly died untimely in 2003.
As a two years old, Basara Saiyana M was purchased by the Blutbacher family where she was loved for the rest of her life.
Basara Saiyana was shown with three years of age at the World Championships where is was named Junior Champion Mare. After that she started her breeding career. She gave birth 5 registered foals, 3 mares and 2 colts. BS Specific was her most successful son. He was French National, European Champion Stallion as well as Bronze Champion Stallion, all in the same year.
Through her son BS specific, Basara Saiyana M is the grand dam of Haifi El Sorrento, the most successful dressage horse in Germany. He was sent to his retirement in an official ceremony at All Nations Cup in 2022. With 29 years of age, she died on a sunny and warm November day in 2022.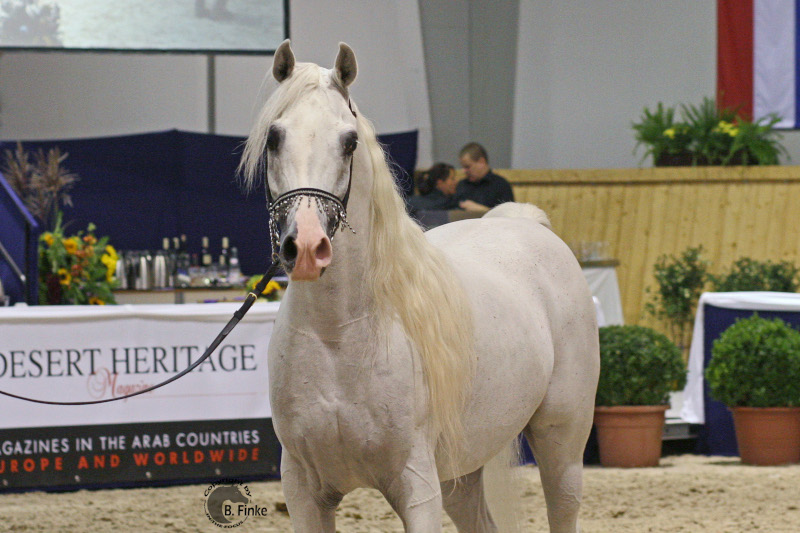 Imperial Baarez
The very exotic Imperial Baarez was a son by PVA Kariim, a stallion born at the U.S., then exported to Brazil. His last years of life he was standing in Germany before he died in 2009. Through PVA Kariim, Imperial Baarez was a grandson by Ansata Imperial who was bred by Ansata Arabians of Don and Judi Forbis and became an influential chief sire at Imperial Stud of the late Barbara Lewis.
Imperial Baarez's dam BB Ora Kalilah was a Straight Egyptian daughter by Orashan, a stallion imported from Germany to the U.S. Orashan traced to Morafic in his sire-line and to El Zahraa's broodmare Tifla by Nazeer through her daughter Om El Arab who established a broodmare family of her own in Germany where she imported to in 1971.
BB Ora Kalilah traces to the Babson import Maaroufa in her damline. Maaroufa was a Saklawiyah Jedraniyah mare.
Imperial Baarez was a successful halter show horse. He was Reserve Nations Cup and World Reserve Champion Stallion in 2004. In 2008 he was shown at the All Nations Cup again and was awarded Reserve Champion Stallion behind Marwan Al Shaqab.
Being Straight Egyptian, Imperial Baarez was imported to El Farida Arabians, located in Egyptian - the homeland of his ancestors. He stayed there for the rest of his life. Imperial Baarez died in October 2022 at the age of 26.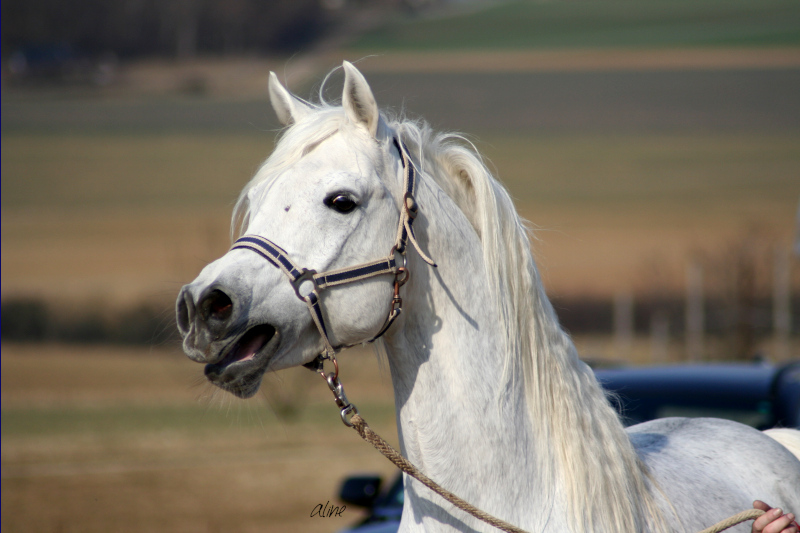 NK Bolbol
The grey Straight Egyptian stallion NK Bolbol was a son by Salaa El Dine. Salaa El Dine was sired by Ansata Halim Shah who is was bred by the famous Ansata Stud of Don and Judith Forbis in the US. Ansata Halim Shah was a son by Ibn Halima, a stallion that was imported from El Zahraa to the US as a yearling. Salaa El Dine's dam was Hanan, the foundation mare of Dr. Nagel's Katharienhof, the breeder of NK Bolbol.
NK Bolbol's dam is Sanana whose sire Nahaman was also a son by Salaa El Dine. Sanana is the dam of NK Oteyba, a black full-brother to NK Bolbol.
NK Bolbol whose name means 'The Nightingale' impresses by his classic beauty and his riding horse qualities. His disposition and beauty convinced the German National stud of Marbach to lease him for two breeding seasons to cover their Straight Egyptian and asil mares. At Marbach, he produced the bay stallion Musab, now chief sire at stud as well as the black full-sisters Namije and Napirai, both proven broodmares at Marbach. Furthmore, he sired Nuriye (x Nureddinna), a successful endurance horse.
NK Bolbol is now retired from breeding and enjoys his days as leisure time horse but is still flirting with mares when they're passing his stable.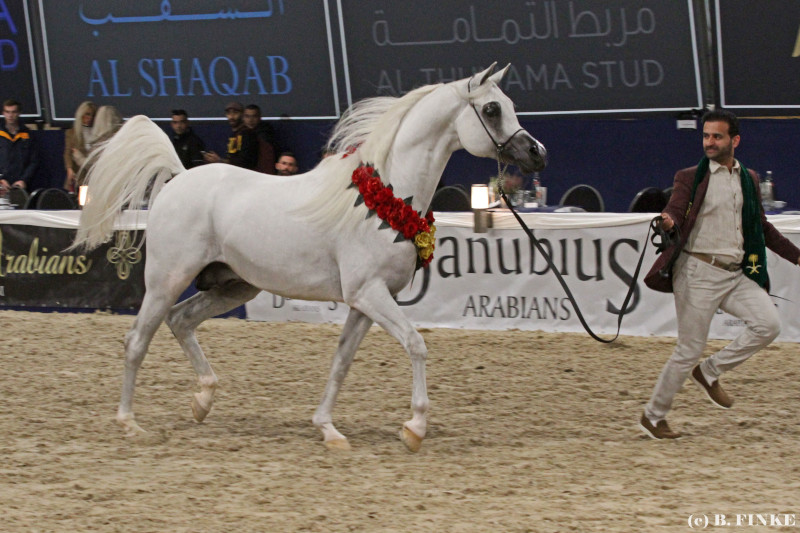 Alexxanderr
Alexxanderr is by Excalibur EA, the most successful son of World Silver Champion Stallion Shanghai EA. Excalibur EA's dam is Essence of Marwan EA, a chestnut daughter by Marwan Al Shaqab who also produced Zeus EA, full-brother to Excalibur EA and Spanish National Champion.
Alexxanderr's dam is AR Most Irresistible, a daughter by ML Mostly Padron who was Scottsdale Champion Stallion exactly twenty years after his grandsire Padron. Her dam Flirtatshahn BHF is by Falcon BHF and out of a Khemosabi daughter.
Alexxanderr has an impressive show career: He was World Yearling Silver Champion Colt, World Gold Champion Colt in 2017 and Gold Champion at Aachen's All Nations Cup as a Junior and Senior horse. Furthermore, he was named Gold Champion Stallion at Menton in 2022. He topped his show career when being named Gold World Champion Stallion in 2022, placing his sire second.
Alexxanderr has matured out very well and is now a sire of halter horses himself. As of 2022, he sired more than 250 foals. His most successful son is Maher Al Sayed who was Yearling Silver Champion Colt at the All Nations Cup and Yearling old Champion Colt at Menton in 2018.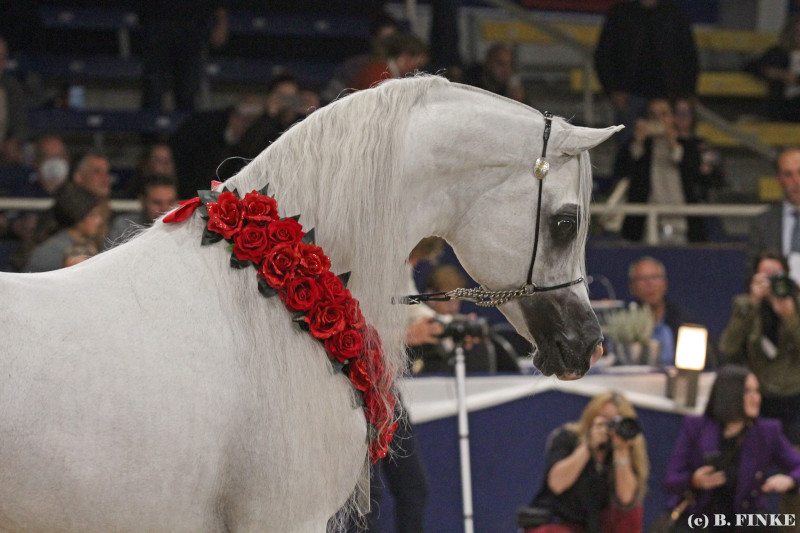 E.S. Harir
E.S. Harir combines top sires in his pedigree. Through his sire AJ Dinar he is a grandson by WH Justice that 'Champion maker' who does not need more introduction. AJ Dinar's dam is World Champion Filly Deska HJE who is sired by Lumiar Amadeus, Brazilian a National Champion Stallion. Lumiar Amadeus traced to Bey Shah on his sireline and included old German Weil-Marbach bloodlines on his dam side. He was standing many years at North Arabians (long-time owners of Padrons Psyche) before he was acquired by Halsdon Stud in the UK in his later years. He died in 2018.
Through his dam TF Magnums Magic, E.S. Harir is a maternal grandson by Magnum Psyche who's a top sire in U.S. and a living legend.
E.S. Harir was successfully shown in Europe. He was named Gold Champion Stallion at the All Nations Cup twice. Furthermore, he was Bronze World Champion Stallion and World Silver Champion Stallion in 2015 and 2018, topping that by being awarded World Gold Champion Stallion in 2021.
In 2022, he was re-shown at the All Nations Cup awarded Bronze Champion Stallion.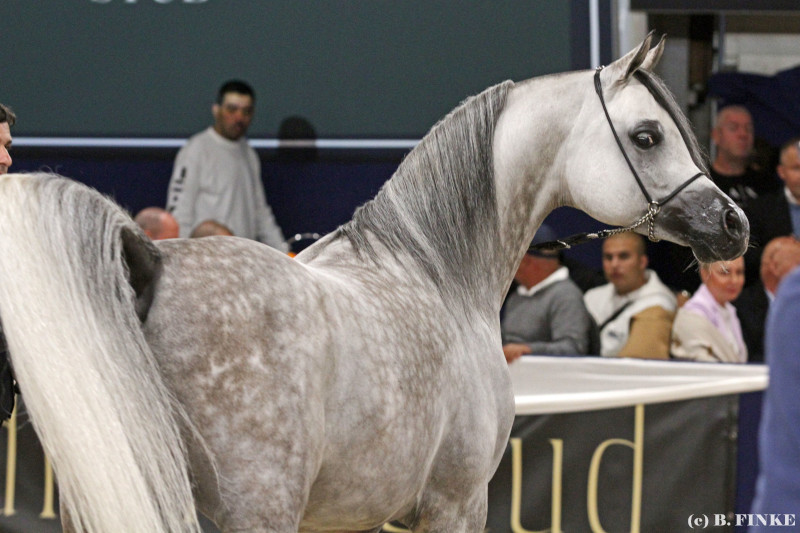 HL El Ganador
Chilean bred stallion HL El Ganador was roughing up the show ring in Europe by becoming Silver Champion Colt at the All Nations Cup and at the World Championships in 2019.
Interesting in that is his pedigree that typically would be filled up with lines to top halter sires like Marwan Al Shaqab or FA El Shawan nowadays. Instead, his pedigree is rarely seen in today's top halter show horses. His sire HP Shakir TE traces back to Bey Shah but not over the famous show line of Versace-Fame VF but over Palissade, Scottsdale Reserve Champion Junior Colt in 1996 whose dam Pepper Rose was a Aladdinn daughter: Her dam traces to the Gainey breeding program which was popular in the 60's.
HL El Ganador dam line is also hardly seen in the halter show ring. His dam Lonco Baby Maria traces to 74 Tifle, an old mare family of Babolna that is very well-known in Germany through the mare Kho-Rha by Kuhailan Zaid. Kho-Rha was foundation mare at Gertraude Griesbach's Achental stud, one of the first German Arabian stud farms established after WW II.
Lonco Baby Maria is sired by HP Emir, a Chilean National Reserve Champion Stallion, that also has German bloodlines in his pedigree through his sire ST Synbad who traces to Sanacht in his dam-line.
HL El Ganador did not only succeed in the halter show ring as Junior horse. In 2022, he was awarded Silver Champion Stallion at the All Nations Cup and at Menton and Bronze World Champion Stallion in Paris.